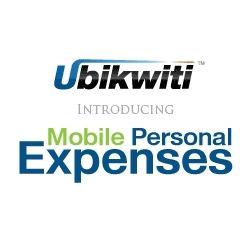 With three billion mobile phones on the planet, mobile devices have become mainstream to business
San Francisco, CA (PRWEB) October 27, 2009
Ubikwiti's free Mobile Personal Expenses is an extension of Ubikwiti's cloud-based Personal Expenses and Facebook Personal Expenses applications, hosted in secure Amazon.com data centers in the U.S.
Transactions entered via mobile devices using Mobile Personal Expenses immediately appear in the cloud-based applications, just as transactions entered into either of the cloud-based applications are immediately reflected in Mobile Personal Expenses. That means data, transactions and balances are always in-synch. You don't need to access a laptop or a desktop PC to manage your personal expenses - now you can do it from your mobile, on the go, anywhere, any time.
Click here to find out more.
Gartner's "Top 10 'Strategic' Technologies for 2010" include cloud computing (No.1), social computing (No.6) and mobile applications (No. 10).
According to Gartner analyst Carl Claunch, speaking at Gartner's user conference, Symposium/ITxpo 2009, in Orlando, "Mobile devices now have enough processing power and storage capacity for software vendors to make some reasonably meaty applications for them. There is increasing potential to create an environment on smartphones that would support an enormous pool of PC applications."
"With three billion mobile phones on the planet, mobile devices have become mainstream to business," said Ken Dulaney, Gartner vice president, in a presentation on October 22, 2009. Mr. Dulaney said "since the introduction of the iPhone, software platform providers have awakened to the reality of a compelling user experience."
And according to reported comments in Computerworld (October 20, 2009) by Bill Piatt, CIO at International Finance Corporation, a subsidiary of the World Bank, "the only thing that works reliably in emerging markets is cell phones".
Ubikwiti CEO Tim Loving said "Ubikwiti Mobile Personal Expenses represents a major step forward in consolidating three of the Top 10 strategic technologies for 2010 into an easy-to-use mobile application to help customers better manage their personal expenses. It is free of charge and will be of major benefit to millions of people throughout the world, including those in emerging markets."
"Mobile Personal Expenses extends the accessibility of the current free Ubikwiti Personal Expenses application and Facebook Personal Expenses application to mobile devices."
"Ubikwiti Personal Expenses can be upgraded to Ubikwiti Personal Cash Management simply by adding 'Upgrade package for Personal expenses' from Ubikwiti's Online U-KwikShop™. The upgrade package is priced at only $US1.35 per month and is designed for customers who need to record deposits of checks and cash into bank accounts, balance books with bank statements, and produce a net income report."
"Upcoming mobile applications will extend and upscale into Ubikwiti's range of business applications to support major functions of the 'order-to-cash' cycle of business processes, including order placement, customer information, collections, and summary reports."
About Ubikwiti Ltd:
Ubikwiti is a platform of components and tools that allows you to quickly and easily create and customize your own accounting and business management software applications, accessible via the Internet as Software-as-a-Service (SaaS). For more information about Ubikwiti platform view Ubikwiti video on YouTube.
Ubikwiti is a leading designer and developer of online DIY component-based business and personal application software.
Amazon.com data centers in the United States host all Ubikwiti software and customer data.
Ubikwiti enables SMB businesspeople and personal application users to quickly and easily define, configure, launch, modify and enhance applications to meet their needs at the lowest possible cost (sometimes completely free-of-charge). Businesspeople first select a business template and then add additional business components from U-KwikShop to tailor the template to their needs, using simple 'point and click' methods.
Ubikwiti provides web services useable in collaboration with social networks, including template/applications (widgets) for use by members of social networks.
Ubikwiti applications interface easily to free office productivity tools, web hosting services (such as online stores) and online payroll services.
Amazon and any other trademarks used herein are trademarks of their respective owners.
For additional information, please visit http://www.ubikwiti.com.
###