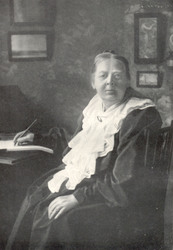 These are extraordinary letters that deserve a wide audience. Differences between the sexes played a key role in Darwin's thinking, which in turn had a major impact on Victorian society.
Gibraltar, United Kingdom (PRWEB) October 27, 2009
The Darwin and Gender project - funded by a £480,000 donation from The Bonita Trust - will make available for the first time in a single resource Darwin's private and largely unpublished writings relevant to all aspects of gender; in particular, a large body of the great naturalist's own letters.
Key to the funding arrangement is the appointment of an Educational Officer in 2010 who will work in partnership with schools and universities to bring the material to as wide an audience as possible.
Ruth Parasol DeLeon, founding member of The Bonita Trust International Advisory Board says, "Many of the issues raised by Darwin in his correspondence have great relevance to modern society. The Darwin and Gender project will allow a wider audience an insight into how his views on gender shaped Victorian society. The encouragement of women in the fields of science and technology is one of Bonita's core activities around the world, and Bonita is delighted to support the important research to be undertaken by Cambridge University."
The research for the three-year project will be overseen by the Darwin Correspondence Project at Cambridge University Library.
It is anticipated that the project will illuminate such private relationships as that of Darwin with his elder surviving daughter, Henrietta. Too young to be much involved in the writing of On the Origin of Species, she is likely to emerge as of hitherto unsuspected importance in the writing of The Descent of Man, Darwin's first public statement on human evolution..
Darwin had a surprisingly large number of other female correspondents throughout his life (some 148), many of them - such as Mary Boole (pictured) - practicing scientists in their own right.
Among the specific areas that Darwin and Gender will address are Darwin's domestic life, gender in a scientific context and gender and society.
Researchers funded over three years by The Bonita Trust will provide accurate transcripts of the letters and research and write contextual material to make them accessible to both scholars and the general public as well as to schools and Universities.
Project director Professor Jim Secord said: "These are extraordinary letters that deserve a wide audience. Differences between the sexes played a key role in Darwin's thinking, which in turn had a major impact on Victorian society."
Notes to editors:
The Bonita Trust is a philanthropic trust established under Gibraltar law in 2004 by a subsidiary of PartyGaming Plc, prior to its London Stock Exchange flotation in 2005. The Trust is served by an International Advisory Board whose first member was Ruth Parasol DeLeon.
Bonita has focused the majority of its community grant-making in the United Kingdom, India, Israel, and Gibraltar and has since inception, donated over £7.5 million pounds to charities leveraging technology to deliver programmes in the areas of education, health and entrepreneurship working in partnership with communities worldwide.
Bonita also provides technological expertise in order to help charities promote themselves on the internet and increase their reach, and therefore their delivery of support.
For further information please contact Mary Glanville info (at) bonitatrust (dot) org or call 00 44 2077318208.
The Darwin Correspondence Project was founded in 1974. It originally set out to locate, research, and publish summaries of, all letters written by Charles Darwin, extending the Project to include letters written to him. To date, the project has located, both in libraries and in private collections, a total of around 14,500 letters exchanged by Darwin and nearly 2000 correspondents around the world between 1821 and his death in 1882. New letters continue to be discovered, and the Project is now engaged in an active hunt for others so that the corpus will be as comprehensive as possible.
Members of the press, please email Stuart Roberts, University of Cambridge Communications Officer, for more information: sjr81 (at) admin (dot) cam.ac.uk or call 01223 764982.
###