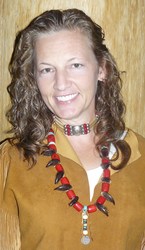 The six months I spent camping alone in the Australian outback was a transformational experience that informs these workshops
Hillsborough, NC (Vocus) October 27, 2009
In recent years, Australian Aboriginal paintings have had an important impact on the global art market. The bright, saturated colors and hypnotic designs reflect a people's culture while resonating with intense spiritual power. Now anyone can learn this technique themselves with Laine Cunningham's Dot-Dot Dreaming workshops and seminars.
During the seminar, Cunningham outlines the evolution of the Papunya-Tulu or Western Desert style. In 1970, a teacher on the Papunya reservation saw that as the Aboriginal elders died, the stories that preserved the Dreaming laws were lost. Since the lifestyle left little opportunity for elders to pass these stories on to the next generation, the entire system of values and cultural information was disappearing.
The men still created ground paintings of significant cultural stories. These installations use seeds, leaves and bird down to draw symbols on the ground. The men began replicating the ground paintings on large sheets of bark and the Western Desert style was born.
"Although originally embedded in a culture, the art form is so accessible people from any background can create their own paintings," Cunningham says.
The swirling patterns of dots represent the seeds and stones that would have been used in the ground painting. This resulted in the form's popular name, the dot-dot style. Since the ground paintings were viewed from above, the Western Desert images are also designed as if seen from above. Traditional symbols for waterholes, spears and digging sticks are commonly included.
The art form has since become a valued commodity worldwide. Since artists traditionally sang songs related to the story they were painting while they worked, the artwork can be imbued with extraordinary emotional and spiritual power. Viewing these paintings in person is always a moving experience.
Cunningham sets up her workshops and seminars so that creating the dot-dot painting becomes transformational. She introduces the participants to Australian stories, music and art, including live performances of the didgeridoo.
"Participants paint an important story from their own lives to help them celebrate important milestones, move through grief, or recognize an important life transition," she says.
The paintings can be done on a board to mimic the bark on which these paintings were often done. Nowadays Aboriginal artists are opting for canvas, so Cunningham's longer programs will often use canvas. When facilities and time allow, she helps groups create a ground painting with locally available seeds and plant material. The process can be used for team building, to dedicate a church or spiritual group more deeply to its purpose, or to heal a wound when a member of a community is lost.
Even when the classes consist of individuals who had no contact ahead of time, participants often say they are changed by the workshop. "The experience is often deeply meaningful and provides a visual reminder of their spiritual growth," Cunningham says.
For over ten years, Cunningham has made the cultural wisdom and spiritual beliefs of native cultures like Australia's Aboriginal tribes accessible to people from all nations. Her interest in Australia began some years ago. "The six months I spent camping alone in the Australian outback was a transformational experience that informs these workshops," she says.
The programs she offers based on the Western Desert or dot-dot painting style include an hour-long presentation, two- to four-hour workshops, and weekend seminars. She also offers a workshop called Tjuringa: Spirit Boards and Sacred Objects. In this program, participants learn about and create their own Aboriginal spirit board, click sticks and bullroarer.
Cunningham's Native American programs include the Four Winds workshops, a series of transformational seminars based on the seven sacred directions, half-day workshops on medicine bundles and medicine bags, using the dreamcatcher to fulfill lifelong goals, and programs that honor active duty soldiers and veterans.
She also offers sessions based on Huna, the Hawaiian system of spiritual beliefs. The most popular is The Three Hawaiian Minds, which teaches people how to consciously and deliberately generate abundance in all areas of their lives. She also offers healing touch workshops, seven elements seminars, and sea crystal (seashell) workshops.
These programs have been highly rated by a multicultural women's foundation on White Earth reservation as well as churches, spiritual organizations and arts organizations. College, university, and public and private school students talk about her visits for years. Cunningham also offers inspirational and motivational keynotes and presentations.
Her work has garnered extensive attention. In the last year alone, she has appeared on MSNBC's The Well-Mannered Traveler, the Sydney Morning Herald, USA Today, Psychology Today, Awareness magazine, New Age Journal, radio shows in three countries, several TV programs and subscription podcasts. She has discussed dating and relationships, abundance, grief and chronic illness, fulfilling life dreams, the native take on the swine flu, and women's issues.
For more information, visit the Workshops page of her website http://www.lainecunningham.com. Visitors can also sign up for her free email bulletin The Spiritual Messenger. She is available on short notice and can be reached at 336-267-6572.
Cunningham's upcoming book, Seven Sisters, pairs Australian Aboriginal stories with essays that address modern problems. Her first novel was published early this year. Message Stick focuses on modern Australian Aboriginal spiritual beliefs and won two national awards. The book was also included in a celebrity swag bag. Read about both on her book page.
###