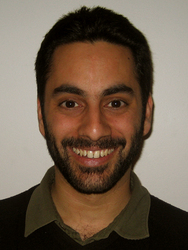 more than a publishing phenomenon, but a sign of the times
New York, NY (PRWEB) October 27, 2009
Social media marketing is more than having the obligatory Facebook page, blog and Twitter account, according to a new book by Shiv Singh, vice president and global social media lead for Razorfish. Instead, Social Media Marketing for Dummies (ISBN: 978047028934, October 2009; $24.99), explains that marketers should be focused on reaching and building online relationships with influencers--those people who can have a substantial impact on a brand's reputation and sales.
"Social Influence Marketing offers new opportunities for marketers to engage consumers with a brand," said Singh. "This book cuts through all the clutter about social media in the marketplace and provides clear insights about how to use this new medium to achieve marketing and business objectives."
In writing the book, Singh drew on extensive client work at Razorfish, including implementing social media marketing programs for Victoria's Secret, MillerCoors and Levi Strauss & Co. Full of examples, the book is divided into four sections that walk the reader through the scope of Social Influence Marketing, from defining the fundamentals to laying out an actionable plan. Specifically, the book:

Debunks common misconceptions about social media marketing and explains how it integrates with other marketing disciplines
Describes the steps for planning, managing and measuring social media marketing campaigns, even providing advice for choosing technology and advertising vendors as well as specific recommendations
Discusses how to leverage social media with existing marketing efforts, emphasizing the need for an authentic brand voice
Presents the 10 best practices and common mistakes in social media marketing
Social Media Marketing for Dummies is available for purchase at bookstores nationwide and at http://www.amazon.com. More information about the book, including further insight from Singh, can be found on his blog at http://www.goingsocialnow.com.
About the Author
As the Vice President and Global Social Media Lead at Razorfish, one of the world's largest interactive agencies, Shiv Singh advises clients on how to leverage digital technologies to develop meaningful and value-driven customer and employee relationships. He leads Razorfish's Social Influence Marketing practice, the company's approach for employing social media and social influencers to achieve clients' marketing and business objectives. In addition to writing extensively on social media, he has also spoken on Social Influence Marketing at conferences such as South by Southwest, the ARF Annual Summit, Adweek Social Media Strategies, DMA Leader's Forum, MediaBistro Circus and OMMA Global. He was also recently named one of Advertising Age's 2009 Media Mavens, a distinguished industry honor and has been quoted in the Wall Street Journal, Ad Age, Adweek, Reuters and USA Today discussing digital marketing. Shiv completed his undergraduate studies at Babson College and conducted graduate research into social networks at the London School of Economics & Political Science. He blogs at http://www.goingsocialnow.com and his twitter ID is @shivsingh.
About For Dummies®
With near universal name recognition, more than 150 million books in print, and more than 1,300 topics, For Dummies is the world's bestselling reference series. With loyal customers around the globe, For Dummies enriches people's lives by making knowledge accessible in a fun and easy way. Described by the New York Times as "more than a publishing phenomenon, but a sign of the times," For Dummies span every section of the bookstore, covering everything from health to history, music to math, self-help to Spanish language, technology to travel, and more. The Dummies brand has expanded into new products and categories with language audio sets; and an extensive licensed product line, including art sets, craft kits, GPS navigation, fitness and hobby DVDs and more. For more information, visit Dummies.com. For Dummies is a branded imprint of Wiley.
About Razorfish
Razorfish is one of the largest interactive marketing and technology companies in the world. With a demonstrated commitment to innovation, Razorfish counsels its clients on how to leverage digital channels such as the Web, mobile devices, in-store technologies and other emerging media to engage people, build brand loyalty and provide excellent customer service. The company is increasingly advising marketers on Social Influence Marketing, its approach for employing social media and social influencers to achieve the marketing and business needs of an organization. Its award-winning client teams provide solutions through their strategic counsel, digital advertising and content creation, media buying, analytics, technology and user experience. Razorfish has offices in markets across the United States, and in Australia, China, France, Germany, Japan, Spain and the United Kingdom. Clients include Carnival Cruise Lines, MillerCoors, Levi Strauss & Co., McDonald's and Starwood Hotels. Visit http://www.razorfish.com for more information. Follow Razorfish on Twitter at @razorfish.
###