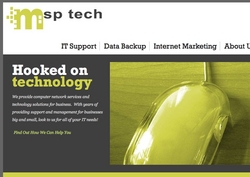 Creating and managing an effective web site is one of the biggest hurdles for most MSPs who want to take advantage of online marketing
Broomfield, CO (PRWEB) October 28, 2009
In an effort to simplify Internet marketing for MSPs who want to grow their managed service businesses, Kutenda now provides all MSP customers with a free, ready-to-go MSP web site built for lead generation.
"Creating and managing an effective web site is one of the biggest hurdles for most MSPs who want to take advantage of online marketing," said Kutenda CEO Mike Cooch. "The free web site empowers MSPs to jumpstart their marketing and grow their business online without delay."
About Kutenda's new web site options
When an MSP signs up for Kutenda's Online Marketing and Lead Generation tool -- which includes email marketing, SEO and online lead-generation tools, plus best practices training and a library of ready-to-launch managed services campaigns -- Kutenda provides access to a catalogue of professionally-designed web site templates and professionally-written content for managed services. This is in addition to the ready-to-launch email campaigns -- from BDR to Help Desk and more -- that MSPs can already take advantage of with a Kutenda account.
Kutenda's MSP-specific content library provides partners with pre-written web pages for the managed services they currently sell, including backup and data recovery, VoIP, help desk and more. MSP partners can choose which site design and content they like, and the Kutenda team will build them their new web site for free within the Kutenda platform.
Kutenda's partners are not limited to the specific look of the web sites Kutenda provides, or the specific content that has been written for them, but rather are then encouraged to use the Kutenda web site management functionality to customize them to really make them "their own".
For MSPs satisfied with their current site design and content, Kutenda will import their site and offers a web site manager for editing content, adding new pages and forms, and optimizing the site for search engine visibility.
To learn more about the Kutenda Online Marketing Suite and how it can help managed service providers grow their businesses with online marketing, please visit http://KutendaForMSPs.com.
###