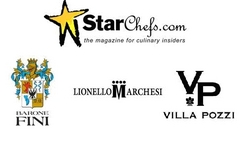 Lovers of Italian food and wine are spending more time entertaining at home, so we asked top Chefs from around the country to help us bring the fine Italian wining and dining experience into the home
New York, NY (Vocus) October 27, 2009
Starchefs.com today announced Tony Priolo, chef at Piccolo Sogno in Chicago, IL, as the winner of their first National Italian Wine and Pasta Pairing Competition, sponsored by renowned Italian wine estates Barone Fini, Poggio Alle Sughere and Villa Pozzi, in conjunction with World Pasta Day.
Barone Fini (Trentino), Poggio Alle Sughere (Tuscany) and Villa Pozzi (Sicily) worked with Starchefs.com to create a competition which would result in gourmet pasta recipes from top Chefs that could be easily recreated by home cooks for the coming season. "Lovers of Italian food and wine are spending more time entertaining at home, so we asked top Chefs from around the country to help us bring the fine Italian wining and dining experience into the home," said Barbara Scalera, spokesperson for the wineries. "Pasta is an inexpensive ingredient, yet one that can be used to create a delicious, upscale appetizer or main course. Similarly, the wines that we used for the competition – Barone Fini Pinot Grigio $11.99, Poggio Alle Sughere Morellino Di Scansano $17.99 and Villa Pozzi Nero D'Avola $9.99 - are all premium quality wines at affordable prices that can be found throughout the U.S. What better way to celebrate World Pasta Day then by offering a luxury dining experience that is accessible to everyone with a nearby kitchen and wine shop!"
Of the hundreds of Chefs throughout the U.S. who entered the competition, 104 finalists were invited to participate by sending in pasta recipes to pair with the three featured wines. The seven finalists, chosen for recipes that were creative, easy to prepare, and had great pairing potential with the wines were Chef Francesco Grosso, Marea Restaurant, New York, NY; Chef Rhys Lewis, Williamsburg Lodge, Williamsburg, VA; Chef Paul Player, Gaylord Palms, Orlando, Florida; Chef Giancarla Bodini, Escopazzo, Miami Beach, FL; Chef Tony Priolo, Picollo Sogno, Chicago, IL; Chef Rino Baglio, Ireland Sandrock, St Paul, MN and Chef Dave Remias, Capital Club, Columbus, OH.
Finalists recipes were prepared by Chef Bradford Thompson (winner of numerous accolades including the James Beard Award for Best Chef Southwest in 2006 and Food & Wine Magazine's Best New Chefs of 2004) and taste tested by a jury of independent chefs at the French Culinary Institute in New York City. "Tony Priolo of Piccolo Sogno was chosen as the overall winner of the competition because his dishes were well executed, paired beautifully with the wines, and paid attention to seasonally available ingredients," said Chef Bradford. "With made-from-scratch pastas, yet easily interchangeable with dried, the judges were impressed with the approachability of the recipes, as well as Tony's ambition and originality."
Tony is known for his rustic, clean cooking style at Piccolo Sogno, sourcing artisanal ingredients from throughout Italy in order to provide customers with a true Italian dining experience. The restaurants all-Italian wine list has been the recipient of a 2009 Wine Spectator Award of Excellence and a Santé Wine Hospitality Award.
Francesco Grosso of Marea Restaurant in New York came in second place for his Rigatoni con Ragu di Maiale paired with the Poggio Alle Sughere Morellino di Scansano, and Dave Remias of the Capital Club in Columbus, OH came in third for his Fennel & Sage Gnocchi with the Barone Pinot Grigio.
About Barone Fini
Barone Fini's history dates back to 1497 when the two noble Venetian families of Barone and Fini united in marriage and began to produce wine in northeastern Italy. Today, the Bonmartini family, direct descendants of the Barone Finis, continues to manage this venerable property. Focusing on only two wines – Pinot Grigio and Merlot, Barone Fini sources its grapes from old vines in the Trentino region. With attention to quality at every turn, grapes are hand harvested and carefully selected before being brought to a state-of-the-art winery nearby. The winery's close proximity to the Instituto Agrario Provinciale at San Michele al Adige, a top viticultural research center initially established in 1847, serves as an additional resource in the family's quest for quality wine.
About Lionello Marchesi
Industrialist, inventor and winemaker Lionello Marchesi owns three unique Tuscan properties planted to the best traditional (Sangiovese, Malvasia and Trebbiano) as well as international (Cabernet Sauvignon, Merlot and Chardonnay) varieties. His achievements in viticulture, enology and agro-turism began in 1984 with the purchase of a medieval village in the noble Montepulciano region. Today, Marchesi continues to develop new technological advances to benefit his wines such as one-of-a-kind stainless steel fermentors. He brings this knowledge and enthusiasm to all of his current properties: Castello di Monastero, Coldisole and Poggio alle Sughere.

Castello di Monastero, founded in 1994, produces wines from 168 acres planted in the classified areas of Chianti and Chianti Classico, along with Chardonnay, Vin Santo del Chianti Lunanuova and the acclaimed Super Tuscan, Infinito,
Coldisole, which means "Hill of the Sun," includes 15 acres in Montalcino vineyards, producing Rossi di Montalcino, Brunello di Montalcino and Brunello di Montalcino Riserva.
In Magliano, Poggio alle Sughere explores the Sangiovese grape with Morellino di Scansano and Splendido, a Super Tuscan blend.
About Villa Pozzi
Villa Pozzi was launched in 2006 by the Pozzi family, a fourth generation wine producing family. Located in Sicily, the company's winery was originally constructed in 1860, but was completely rebuilt in 2000. Villa Pozzi produces four popular varietal wines: Pinot Grigio, Merlot, Cabernet Sauvignon and the indigenous Nero d'Avola. All of the grapes are harvested by hand and at night or in the early morning to avoid any negative influence from the phenolics, which could lead to bitterness or "off" flavors. The red varieties are grown in Sicily, while the Pinot Grigio is sourced from vineyards in the Veneto. Produced in a ripe, fruit-forward style and intended to be enjoyed upon release, the wines have good aromatic profiles, with balanced flavors, nice varietal character and long length and are.
Barone Fini, Lionello Marchesi, and Villa Pozzi are imported and sold nationally by W.J. Deutsch & Sons, Ltd. http://www.wjdeutsch.com
Starchefs.com™ is an award-winning online culinary magazine, serving the foodservice industry and food aficionados since 1995. Featuring the world's top celebrity chefs, Starchefs.com.com has become the most influential destination for original culinary content on the Web. Its Board of Advisors is made up of 20 of the country's most influential chefs, including Jean-Georges Vongerichten, Daniel Boulud, Norman Van Aken, Todd English, and Bobby Flay. Starchefs.com JobFinder is the premier employment classifieds destination for the hospitality industry. http://www.starchefs.com
For more information including additional recipes from the competition and high res photos please contact:
Barbara Scalera
Director of Public Relations
W.J. Ddeutsch and Sons Ltd.
telephone: 914.251.3294
###