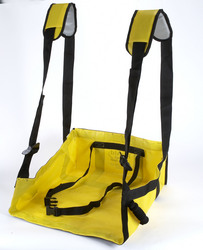 Typically, these guests are relegated to specially designated wheelchair sections and they cannot always sit with their friends and family. Now disabled attendees at a sports or cultural event can enjoy the game or the show right next to the people they came with
Lake Success, NY (PRWEB) October 28, 2009
Now managers and concierges in any public venue can offer an aisle seat to wheelchair-bound guests with the new Patient Carrier Seat (PCS) from EVAC+CHAIR North America, LLC. The seat allows a guest to be transferred from a wheelchair to a regular aisle seat in theaters, stadiums, arenas and other places of public assembly. The PCS then serves as a transfer device to help the guest back into a wheelchair easily or to be evacuated in an emergency without delay. The announcement was made by Richard Perl, vice president of business development for EVAC+CHAIR North America, which distributes a full line of evacuation devices including the hallmark EVAC+CHAIR emergency evacuation chair.
"The Patient Carrier Seat helps public places be much more hospitable to people who are confined to wheelchairs," said Perl. "Typically, these guests are relegated to specially designated wheelchair sections and they cannot always sit with their friends and family. Now disabled attendees at a sports or cultural event can enjoy the game or the show right next to the people they came with," he added.
Perl explained that the PCS is placed on an aisle seat first, before the guest transfers to the seat. After the event, two people can lift the person back into a wheelchair with the help of two handles and two adjustable shoulder straps. In the event of an emergency that requires immediate evacuation, there is no need to wait for guest services to bring back a wheelchair; the PCS acts as an instant emergency evacuation seat, with two people carrying out the disabled guest.
Perl advises that all public venues also have EVAC+CHAIR emergency evacuation chairs to help people get down the stairs during a fire or other emergency, and notes that the low cost and portability of the PCS makes it an attractive complement to any emergency readiness plan. It also provides a strong element of inclusivity. "The PCS instantly broadens a venue's adherence to life safety issues and makes it a much more inclusive place for wheelchair users to enjoy activities with family and friends at their side," said Perl. The PCS can also be used to assist wheelchair users to transfer in or out of an EVAC+CHAIR.
The Patient Carrier Seat from EVAC+CHAIR North America comes in its own carrying case and, at just one pound and the size of a pizza box, stores anywhere easily. The PCS can be seen at Evac+Chair North America. For more information contact Richard Perl at (516) 502-4240.
###