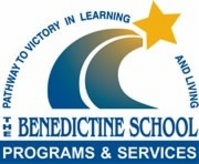 It has been my lifetime dream to provide a complete and total program for individuals with developmental disabilities
Ridgely, Md. (PRWEB) October 27, 2009
The Benedictine School, a nationally recognized, accredited and cost-effective educational living and learning environment for children and adults, is celebrating its 50th anniversary of helping students with developmental disabilities reach their full potential. As part of its mission to provide a holistic, loving life-cycle approach for its students, Benedictine also announced its vision of providing a senior care center for its aging special needs residents.
The Benedictine School, which currently offers educational, vocational and professional programs for students and adults with developmental disabilities, views a future senior care center as a place for special needs adults in their retirement and elderly years. The senior care center would complete Benedictine's goal of full life-cycle support for special needs individuals. Today, the residential and day school services students ages 5 to 21 and the Open Community Program provides a group home program for adults ages 22 to 60+ to live with peers in one of 27 state-licensed homes in Maryland or Delaware. The Benedictine School and Open Community Program currently enrolls 180 children and adults.
"It has been my lifetime dream to provide a complete and total program for individuals with developmental disabilities," said Sister Jeannette Murray, executive director for the past 47 years and a founding sister of The Benedictine School. "Currently, parents and family members are greatly challenged in finding 24/7 care for aging loved-ones with special needs as their bodies and minds age faster. The future senior care center is a natural extension for us as our students will receive the same love and therapy they have known throughout their stay at Benedictine."
Established in 1959 with 19 students, the Sisters of St. Benedict recognized the need for a school to educate children and young adults with developmental disabilities. Since then, the Benedictine School has provided comprehensive services for 1,000 individuals including those with families and those with no meaningful family support.
Located on 500 acres of farmland in Ridgely, Maryland, the Benedictine School's classrooms, living quarters and staff-including special education teachers, therapists and medical personnel-offer students and adults a loving, home-like atmosphere. Vocational and social activities are important at the Benedictine School, as students learn beyond the classroom, prepare for adulthood and discover ways to effectively manage their leisure time.
About the Benedictine School
Located on Maryland's Eastern Shore, the Benedictine School is a nationally recognized, accredited and cost-effective educational living and learning environment for children and adults with special needs. Established in 1959 and managed by the Sisters of St. Benedict, the Benedictine School is a fully approved, non-sectarian center caring for 180 children and adults ages 5 through 60 and over. The Benedictine School Foundation secures the financial resources needed to ensure the future of Benedictine's programs, services and other activities.
# # #