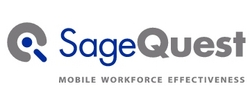 We're proud to establish SageQuest's partnership with Cogeco Cable and continue to expand our unique value for broadband service providers in Canada
Cleveland, Ohio (Vocus) October 27, 2009
SageQuest, LLC announces that Cogeco Cable Inc. (TSX: CCA) has selected Mobile Control as the GPS vehicle management solution for its broadband service vehicles. Cogeco Cable, the second largest telecommunications company in Ontario and Quebec, Canada, is deploying SageQuest's Mobile Control solution to gain insight on more than 400 vehicles.
Known for providing superior customer service, Cogeco Cable wanted real-time visibility into the location of its vehicles as well as the integration of Mobile Control with their workforce management application, ARRIS WorkAssure™. The combination of vehicle location and work order information will provide the Cogeco team, from executives to dispatchers, a view of field operations that will improve customer response times, increase productivity, and reduce costs.
According to Steve Munro, Senior Director, Operational Support & Planning at Cogeco Cable, "Adding vehicle management is a logical extension to our ARRIS workforce management system. We chose SageQuest because their integration with workforce management systems suited our needs. In addition to more efficient dispatching, we look forward to having a deeper understanding of our fleet's activities that will lead to everything from reduced fuel costs to enhancing our strategy and planning decisions," concluded Munro.
With hundreds of technicians serving residential and commercial customers daily, Cogeco Cable recognized the value of streamlining communications between the office and field to improve service.
"We're proud to establish SageQuest's partnership with Cogeco Cable and continue to expand our unique value for broadband service providers in Canada," said Karl Weber, SageQuest's Director of Broadband Market. "We look forward to delivering the same results and personal service to Cogeco that we've demonstrated with other major broadband service providers in the United States."
About SageQuest
SageQuest LLC provides proven GPS vehicle management solutions that improve the efficiency and productivity of mobile workers for utility, cable and broadband companies throughout North America. SageQuest's Mobile Control compliments workforce management tools to provide real-time insight into technician and vehicle activity, providing actionable decision-making information for dispatchers, supervisors and executives. Mobile Control is a software-as-a-service (SaaS) solution which helps customers minimize their upfront capital investment. SageQuest will exhibit their complete broadband vehicle management solution at SCTE Cable Tech in Denver October 28-30th. For more information about SageQuest, visit http://www.sage-quest.com/cogeco or call 888.837.7243.
About Cogeco Inc. and Cogeco Cable Inc.
COGECO Inc. is a diversified communications company with shares listed on the Toronto stock exchange ("TSX"), under the symbol CGO. The company strives to meet the communication needs of consumers and advertisers through cable distribution and radio broadcasting. Cogeco Cable Inc., the cable subsidiary, builds on its cable distribution base by offering analog and digital television, high speed Internet and telephony services. For more information, visit http://www.cogeco.ca/cable for more information.
###