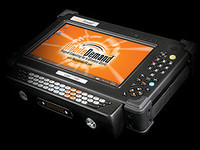 Our customers need a new kind of rugged Tablet PC; one that is small and light-weight like a handheld, yet still has a large screen and the performance and functionality of a full Windows OS device
Cedar Rapids, Iowa (PRWEB) October 28, 2009
MobileDemand, a leading Tablet PC provider, today introduced the xTablet T7000, a rugged UMPC (Ultra mobile PC) that combines the functionality of a notebook, full Windows OS of a tablet and the portability and data collection capabilities of a handheld in a light-weight slate form factor with a built-in numeric keypad, optional QWERTY keyboard attachment and 7" high resolution (1024 x 600 & 768) all-light-readable touch screen display.
"Our customers need a new kind of rugged Tablet PC; one that is small and light-weight like a handheld, yet still has a large screen and the performance and functionality of a full Windows OS device," says MobileDemand President Matt Miller.
"The xTablet T7000 delivers on all these requirements. Customers can run full versions of their business applications eliminating the need to create and support 'light' versions. An example is in the direct store delivery market for consumer goods: in addition to replacing laptops for field sales, beta tests indicate that the xTablet T7000 also has the potential to replace handhelds for route delivery. Plus, it offers customers additional capabilities to provide new revenue-generating products and services to their customers and make better decisions at the point of transaction," Miller continues.
A Workhorse Mobile Workers Can Carry All Day
The xTablet T7000 is built tough for the most challenging environments. The xTablet T7000 has an IP 54 sealant rating for dust and water and MIL-STD 810F drop, vibration and humidity rating and operates in temperatures from -20C to 50C. The xTablet T7000 Rugged PC is one of the first to run on Windows 7, Windows Vista, or Windows XP Tablet PC Edition. With the 1.6 GHz Intel Atom processor with 2GB RAM, 60GB hard drive, and standard wireless communications the xTablet 7000 gives frontline workers all the speed and capability they need to handle any business application. Plus the xTablet T7000 has a sleek design and is small (8.8" W x 5.8" H x 1.55"D) and light-weight (2.5 lbs) making it easy to carry all day without fatigue.
Options and Accessories Add Flexibility and Functionality
Mobile workers can capture both data and images with the xTablet T7000's suite of options and accessories. An integrated bar code scanner and RFID reader offer mobile workers greater capabilities and let them collect and access richer information to ensure better business decisions. With the optional magnetic stripe credit card reader workers can collect payment right at the point of customer interaction. The integrated 2 megapixel color camera lets mobile workers capture images of damaged items, shelf displays and more, enhancing customer service and accelerating decisions.
Optional built-in GPS provides real-time status and location stampings and keeps mobile workers on track offering turn-by-turn directions for efficient routing. Optional full QWERTY keyboard provides even greater efficiency enabling workers to stay caught up on email and access other office applications from the road throughout the day. Hot swappable standard and high capacity battery packs keep the xTablet T7000 operating for a full shift or longer without adding bulk to the device.
MobileDemand delivers a complete solution with the T7000 including a full suite of accessories -- vehicle and desktop cradle, hand strap, carrying case and two and four point shoulder straps to equip virtually any application.
Expansion Ports Provide Maximum Flexibility and Accommodate New and Legacy Applications
The xTablet T7000 is ideal for supporting both the most advanced and legacy applications. Customers decide what expansion ports they need to support the applications they use. If they do not come standard MobileDemand will customize the T7000 to accommodate them. Perform WWAN communications and attach to serial devices. Connect to other devices such as printers; machinery for diagnostics and troubleshooting; scales and engines for vibration sensing and monitoring.
Low Total Cost of Ownership (TCO) Ensures Investment Protection
Ruggedability and reliability are cornerstone attributes of all MobileDemand products including the xTablet T7000. They are built to withstand the harsh demands of a mobile workforce and are waterproof, dust-proof, shock and drop certified to not only protect mission critical information, but also to protect the customer's investment. According to VDC, rugged mobile computers have a significantly lower total cost of ownership than consumer grade computers.
"The evaluation process for mobile devices has dramatically changed. Organizations have become much savvier when it comes to evaluating the best solutions for their frontline workers," says David Krebs, VDC's Mobile & Wireless Practice Research Director. "Organizations are looking beyond upfront deployment costs of mobile solutions and are equally - if not more - focused on the post deployment support costs. These include training, IT support and especially downtime as a result of device failure which leads to lost service opportunities, low employee morale and increased replacement costs.
"For many mission critical mobile applications companies are experiencing failure rates upwards of 22% with non-rugged devices. These organizations are responding by purchasing rugged and fully rugged devices. Besides dramatically lowering downtime, rugged devices have a four to six-year replacement cycle as opposed to the two-year replacement cycle for consumer-grade devices. The actual savings of deploying rugged devices like the MobileDemand xTablet T7000 can be significant," Krebs continues.
Powerful, Affordable xTablet T7000 Available for Ordering Now
The powerful xTablet T7000, starting as low as $1900, is available for ordering. To order now, please visit http://www.RuggedTabletPC.com. For more information either visit the website or contact Maureen Szlemp at 319-573-3312.
For more information on TCO download a whitepaper from the MobileDemand website. Read an in-depth product review at http://www.RuggedPCReview.com.
MobileDemand offers rugged Tablet PCs to a variety of vertical industries that provide a lower total cost of ownership over non-rugged computers; supported by actual customer experience and factual independent research. MobileDemand offers a unique advantage to customers by providing a total complement of mounts and accessories, flexibility built into the system, superior and personalized customer service, and customer-focused engineering - all to help customers best satisfy their mobile computing needs. Additional information is available on the Internet at the MobileDemand Website. MobileDemand, xTablet, and xView are registered trademarks or trademarks of MobileDemand, LC. All other brands, products, or service names are or may be trademarks of their respective owners.
# # #