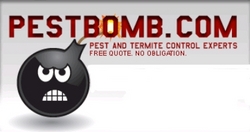 Phoenix, AZ (Vocus) October 28, 2009
Pest Bomb recommends Arizona residents schedule their annual attic inspection during the winter season. Designating winter as the season for an annual attic inspection increases the probability that consumers will stick to a regular schedule. Annual pest control needs like attic inspections are often overlooked due to the length of time between occurrences.
Arizonans can take advantage of their mild winters to fulfill their preventive pest control services. Scheduling professional attic inspections can reduce the chances of pest infestations as the typical attic is an ideal nesting spot for a variety of pests (birds, bats, squirrels, and a variety of insects). Attic infestations can result in expensive repairs as there is often exposed wiring, etc.
Tyson Bailey of PestBomb.com said, "A professional pest control technician will recognize signs that a pest or pests have been using your attic. Even it hasn't created any obvious problems, recognizing the signs early on can avoid massive issues in the future as attics can often be used as a breeding ground for a wide variety of pests. I recommend you contact a pest control company in Arizona sooner, rather than later."
The annual attic inspection will avoid the majority of pest issues originating (and often thriving) in attics. But there is always the possibility that an issue will arise between annual inspections. If consumers are considering this possibility they should schedule pest control services immediately in order to ascertain the situation before it escalates.
PestBomb.com was created by pest control experts. Consumers who access the website are offered access to free, no obligation quotes from the PestBomb database of providers. Pest control services can even be scheduled online for consumer convenience. Arizonans looking to schedule their annual attic inspection can access available professionals in their area easily through the online portal.
For further information on PestBomb.com or pest control services get in touch at Tyson at pestbomb dot com or visit http://www.pestbomb.com.
Company: Pest Bomb
Website: http://www.PestBomb.com
Contact: Tyson Bailey
Phone: 1-888-240-2622
###