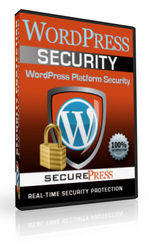 SecurePress Pro puts more security control in the hands of the user than any other WordPress security tool
Fishkill, New York (Vocus) October 27, 2009
SecureLive LLC, a New York and Ohio based website security company recently launched SecurePress Pro, a patent-pending Wordpress Security plug-in (widget) that installs an automated security shield into your WordPress site. But don't let the word "plug-in" throw you; the product is a full-blown WordPress security application. This plug-in (widget) enables the owner to physically see the hacker activity and also records vital hacker information through its slick dashboard. SecurePress Pro also boasts an 18-point user defined alerting system to keep you informed of all attack types and bots. There is even a SecurePress Free WordPress security version, although, it has some of the Pro features turned off.
WordPress powers major news sites, personal and business blog sites, e-Commerce sites - you name it. Just in January 2009 alone, 393,836 people signed up as new WordPress users accounting for another 372,519 new blogs. One would assume with this many users and the ongoing hacking attacks there would be a plethora of WordPress security applications. That is just not the case. There aren't very many anti hacking plugins for WordPress to chose from at all. The current listing is comprised of isolated plug-ins that addresses a single security issue. Even if you install them all, you would still be vulnerable to attacks, even when combined they cannot cover every security hole. There is a better way.
With the introduction of SecurePress Pro, WordPress owners now have a clear choice in website protection. No more piece-meal security patches and plugins. The Free SecurePress widget installs enough features to get you started towards securing your site. The ability to see and record your attacks is an excellent starting point. The reports and statistics available in the dashboard help you to better understand the level and magnitude of these attacks. The free price tag is another good reason to download immediately and get started. After familiarizing yourself with the dashboard, you may want to upgrade to the full version to enable the vast blocking capabilities of SecurePress pro.
Here is a quick rundown on a handful of features in the Free version: (1) Map -plots the hacker on a global map using geo-tracking. The map can be drilled down to street level to reveal the approximate origination of the attack, (2) 2 Charts –plot attacks by type used and country of origin, (3) Calendar –Live calendar that records hacking attempts according to days/months/years complete with historical data, (4) Alerts -18 levels of user defined hacking alerts via email or SMS, plus a lot more. There are many more tools built into the dashboard, making it a must have security tool for any serious developer and WordPress owner. (See the SecurePress video)
"SecurePress Pro puts more security control in the hands of the user than any other WordPress security tool" explains Fred Sarhadi, marketing director for SecureLive LLC. "We want people to download the Free version and experience the power of its tracking and alerting system. Once they have physically seen the hacker and attack activity on their own site for themselves, they will want to upgrade to the Pro version. The Pro version will turn on the blocking protection and remove the intruders and also block new ones from gaining access. This model works for us and it really works for the user."
The Free plug-in has extensive hacker visibility and tracking data, but does not include the advanced blocking features of the paid (Pro) version. The Free version let's you SEE and RECORD the hidden hackers trail in your site. Upgrading to the Pro version unleashes its blocking power. Blocking removes hackers and blocks them from gaining access. The developers hope to impress the WordPress community with this Free plug-in and hope users will want to upgrade. In either case, this application allows owners to see their own hacker activity, which up until now has been hidden. Power to the user!
Installing SecurePress Pro is probably the smartest thing a WordPress owner can do for their website. They will be alerted instantly of any hacking attempts and will also be able to automatically block and automatically report the attackers to the authorities (available with the Plus). This well thought out system will eventually reduce and eliminate repeat offenders from your site. Plenty of reasons to install this Free plug-in today and take the first step in safeguarding your data, files, hard work and reputation.
About the product:
SecurePress Pro WordPress security incorporates Software Bots, Artificial Intelligence Technology, Complete Covert Data Acquisition, Existing Global Hacking Knowledge-base, Live Human Intervention, SMART Real-Time Diagnostics and Automation to pack three separate systems into one for a complete rounded solution to today's security threats against WordPress installations; blocking, alerting and agency reporting.
For additional information regarding this release, please contact Fred Sarhadi or visit http://www.SecureLive.net.
For Affiliate and reseller information visit SecureLive Affiliate Program
Contact:
Fred Sarhadi, Marketing / Sales
SecureLive LLC
(888) 300-4546
http://www.SecureLive.net
###