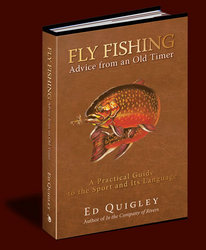 This book is about how to be the guy who always catches a fish - even when no one else can
Lansdale, PA (PRWEB) October 28, 2009
Drawing on more than 50 years of experience fly fishing in streams from Labrador to Costa Rica, Alaska to Scotland, author Ed Quigley announces publication of his newest book, Fly Fishing Advice from an Old Timer, available now from Amazon and Barnes & Noble.
Organized A-Z like an encyclopedia, this concise volume covers the basics -- and the secrets -- of everything from choosing the right rod, reel, vest, waders, line, leader and hat, to creating fish-magnets like "cripples," making a portable wading staff, and outwitting wind, cold, black gnats, and wily trout. Plus, like his previous book, In the Company of Rivers, Quigley shares enlightening and always entertaining real-world anecdotes. In addition to clear explanations, the 326-page book features over 80 illustrations and photographs, plus an annotated list of helpful fly-fishing books, articles, websites and DVDs.
"This book is about how to be the guy who always catches a fish - even when no one else can," says Quigley. "Basically, you can read it today and go out tomorrow and fish with the savvy … and success! … of an old timer."
Essential type of gloves for fishing for steelhead in 36-degree water? The "one-two" secret for a 40-foot cast that lands just above the hatch? Best all-weather fishing hat? How to create a wiggle nymph and when to use it? Where to aim your streamer for hooking trout in fast water? How to catch and release a salmon without a net? How to enjoy Wooly Buggers, whiskey and other secrets of winter fishing? Find all these answers and hundreds more in Fly Fishing Advice from an Old Timer.
Table of Contents: Artificials, Backing, Bamboo, Barbless hooks, Bass bug taper, Black curse, Blank. Blind casting, Blood knot, Blue-winged Olive, Bulging, Butt, Caddisflies, Cane, Carp on the fly, Catch and release, Chironomids, Clippers, Cocking, Comparadun, Cripples, Cul de canard, Dapping, Dead Drift, Double haul, Double taper fly line, Drag 1, Drag 2, Dropper, Dry fly, Dun, Emergers, False casting, Float tubes and belly yachts, Floatant, Fly boxes, Fly casting, Fly line, Fly tying, Foul hooking, Gloves, Hackle, Hatches, Hookless flies, Imago, Imitations, Jungle cock, Knots, Leader shy, Lie, Lies, Lined, Lines and leaders, Matching the hatch, Mayflies, Mending line, Midge, Mouse, Nymph fishing, Orvis Experience, Palmer, Panty hose shuck, Parachute, Pupa, Purist, Put down, Rain jackets, Reading the water, Removing a hook, Retrieve, Rise forms, Rods, Sculpins, Shooting head, Shooting line, Single haul, Sinking lines and sinking tips, Smutting, Socks, Spey cast, Spinner, Stonefly, Streamer fishing, Striking and playing fish, Strip, Tailer, Tailing, Tailwaters, Tandem flies, Tandem rig, Terrestrials, Tippets,Up-winged flies, Vests, Waders and wading boots, Wading, Wading staffs, Weight-forward floating lines, Wet fly, Window, Winter fishing.
About Ed Quigley: Ed Quigley is a freelance writer and author. His previous book is In the Company of Rivers and his fishing stories have appeared in Fly Fisherman magazine and the Yale Angler's Journal. He lives in Lansdale, PA, surrounded by all of the flies, books and fishing gear he mentions in his newest book, Fly Fishing Advice from an Old Timer.
###