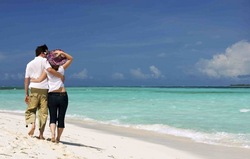 In the timeshare business, we have seen many couples that have made that commitment to renew their love each year with a regular getaway
Washington (PRWEB) October 28, 2009
Today's hyper-busy lifestyle can take its toll on relationships as evidenced by high divorce rates in the United States. According to a recent survey by VacationBetter.org, 72 percent of respondents listed time away with their spouse as one of the best ways to reconnect and rekindle romance within the marriage. The quality of leisure time with one's partner is strongly related to marital satisfaction. Even more, satisfaction with leisure time is one of the most important factors in one's overall quality of life. And regular vacations are an important part of a couple's overall "leisure portfolio".
"As a therapist, one of the first things I recommend to a couple having marital stress is carving out that 'sacred' couple time," said Dr. Peter Fraenkel, a marital therapist in New York City, Professor of Clinical Psychology at City College of New York, and the Director of the Ackerman Institute for the Family's Center for Work and Family. "Taking time away from the stress of everyday living goes a long way in helping couples remember why they fell in love in the first place. The benefits from time away in a lovely or exciting place without the constant pull of life's interruptions will last even when the vacation is over."
There are warning signs to look for when a marriage (or other committed relationship) may be in need of a vacation. Evaluate where priorities of the relationship fall compared to other influences such as work, family and friends, or outside hobbies. Make sure attention to each other and the other's needs are equally distributed. Is one more distracted then the other - or is work taking over the marriage completely? Stress can lead to a major disruption in marriage and it's important to evaluate the causes of stress and its source. Finally, how much quality time is being spent together alone? The less quality time a couple spends together, especially on a relaxing vacation with no outside influences, the more the lines of communication start to fall apart. Take the 10-question quiz developed by Dr. Fraenkel to see if you and your spouse are in need of a vacation.
Vacation is a perfect time to learn the art of living in the present. Focus on the joy of being together - in the moment. It is not the time to plan for the future, but a time to indulge in love. Even the planning can help to bring couples together with a shared purpose, providing an enjoyable goal to work toward together.
"In the timeshare business, we have seen many couples that have made that commitment to renew their love each year with a regular getaway," says Howard Nusbaum, president and CEO, American Resort Development Association (ARDA). "Having a beautiful place to go and an easy way to plan adds to the quality of the experience."
There are some recommended ground rules for these special couples' vacations to help ensure maximum benefit from time away together.

Select the type of vacation both spouses will enjoy. If one loves skiing and the other loves the beach, compromise before you go.
Leave the technology tethers behind. At least leave them out of the bedroom. It's important to have quality, focused time together….not checking email every hour.
Don't work on vacation and don't ruminate about work problems. Research shows that thinking negatively about work while vacationing eliminates the "vacation benefit" of stress relief.
Arrange for the kids and pets to be taken care of so there are no last minute issues or worries while on vacation.
Take a vacation from your disagreements. Leave them at home and approach this special time together as a fresh start. Get to know each other again and don't bring the petty arguments with you.
In preparation for your vacation, practice a "vacation attitude" towards one another everyday, and especially during your free time together in the evenings or on weekends. Learning to set limits on work and other distractions in your regular life will help you really immerse fully in your vacation.
About VacationBetter.org
VacationBetter.org, the American Resort Development Association's (ARDA) on-line resource informs consumers of the importance of vacations and the overall health and wellness benefits of enjoying one - regularly and economically - through timeshare.
###