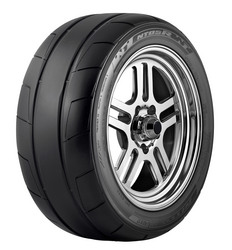 Cypress, Calif. (PRWEB) October 28, 2009
Nitto Tire announces the release of its all-new D.O.T.-compliant competition drag radial, the NT05R. The NT05R is Nitto's most aggressive drag radial designed for competition use. Nitto will officially debut the tire at this year's SEMA show, held at the Las Vegas Convention Center from November 3 to 6, 2009. Visit Nitto at booth #46115 to see the tire. The NT05R will be available for purchase in the first quarter of 2010.
Nitto's top priority during the development of the tire was to maximize traction. To achieve this, Nitto engineered an all-new specialized race compound and a large contact patch. The dual-purpose sidewall construction is enhanced for traction during launch as well as straight-line stability at the top-end. This improves consistency and controllability throughout the entire pass.
The NT05 will be available in popular 17- to 20-inch rim diameters designed for high-performance drag racing vehicles. Included in the size lineup is a P345/30R19, which is the world's first 19-inch drag radial. Sizes will be released throughout 2010.
Coming Soon
Tire Size
P275/40R17 LL
P315/35R17 LL
P285/40R18 LL
P305/45R18 LL
P315/40R18 LL
P345/30R19 LL
P315/35R20 LL
LL Indicates Light Load. Technical Information subject to change without notice.
Nitto Tire develops performance tires for all uses, including racing, off-road and street. Using state-of-the-art manufacturing and testing facilities in both Japan and the United States, Nitto provides innovative and high-quality performance tires for the most demanding automotive enthusiasts. For more information about Nitto or its products, visit the company's web site or contact the company directly. Nitto and Fueled by Enthusiasts are registered trademarks or trademarks of Nitto Tire U.S.A., Inc., located at 6021 Katella Ave., Ste 250, Cypress, CA 90630.
###