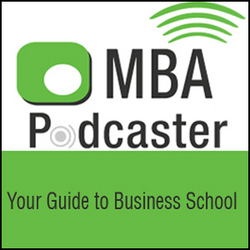 Los Angeles, CA (PRWEB) October 28, 2009
With the rise in unemployment in 2009, the number people hoping to turn to graduate school is reaching an all-time high. Top U.S. business schools have reported a record number of applicants in the past year and the number of GMAT test takers have reached an all-time annual high of slightly over 250,000. At the same time many universities are committed to maintaining a consistent class size which means that the percentage of accepted applicants is dwindling. Having access to detailed advice and information about the MBA application process is now more important than ever to setting a candidate apart from the crowd.
Today, MBA Podcaster, well known for it's in depth audio interviews with business school representatives and admissions consultants, is launching a new video series geared to MBA applicants, MBA PodTV. Like the podcasts, MBA PodTV is committed to bringing business school applicants useful application strategies and relevant news to prepare them for a successful business school experience. The new video series will feature one-on-one interviews with admissions' directors, MBA students, alumni and other experts in a fun, easy to watch format. MBA PodTV will also produce short weekly roundups of industry news relevant to applicants today. In addition, the "Day in the Life" episodes will show viewers what life is like on some of the top business school campuses around the world, as the MBA PodTV crew shadows a current student through classes, meetings and social events.
The face of MBA PodTV is Mia Saini, a second year Harvard Business School student. An MIT graduate and previous CNBC financial producer, Saini sits down with various experts across the field to ask them the questions MBA applicants want to know. While most applicants rarely have the opportunity to visit their targeted business schools, let alone interview admissions' directors, MBA PodTV helps bridge the gap between schools and applicants. Viewers are encouraged to submit questions for upcoming MBA PodTV segments on the MBA Podcaster Facebook page.
Starting today, viewers can visit the MBA Podcaster Web site to watch the first installment of MBA PodTV. Each episode will also available for download every week on iTunes, YouTube and the MBA Podcaster website.
About MBA Podcaster:
MBA Podcaster is an online source for information, insight, and advice on the MBA admission process. Ranked #1 on iTunes in both the MBA & GMAT categories, MBA Podcaster delivers relevant information and advice through weekly audio and video segments for those planning to apply for a Master's in Business Administration. Topics include everything from a behind-the-scenes view of the admission process to post-MBA job opportunities and current market trends. Guests include Deans of various business schools, alumni, corporate recruiters, MBA consultants and more. For more information visit mbapodcaster.com. Keep up with MBA Podcaster news and podcasts by signing up to be a fan of the MBA Podcaster on Facebook, or following MBA Podcaster on Twitter.
###