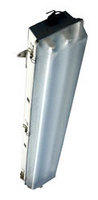 We came out with the explosion proof LED lights about 6 months ago for AC voltages ranging from 110 volts to 277 volt
Kemp, TX (Vocus) October 28, 2009
Larson Electronics adds low voltage explosion proof LED lights to its line of hazardous location lighting. Both the UL 844 Class 1 Division 1 EPL-48-2L-LED explosion proof light and the UL 844 Class 1 Division 2 HAL-48-2L-LED light are now available with two 24 watt T-series style bulbs operating in ranges from 9 to 50 volts.
"We came out with the explosion proof LED lights about 6 months ago for AC voltages ranging from 110 volts to 277 volt," said Rob Bresnahan with Larson Electronics. "Now we have developed low voltage bulbs for our hazardous location rated lights. Our low voltage fluorescent lights require an additional ballast to bring the input voltage up to work with the fluorescent bulbs. However, that is not necessary with our LED T-series explosion proof lights, as we eliminate all ballasts and bring the power directly to the LED bulbs. Together, the 24 watt bulbs generate 4100 lumens and draw only 4 amps on 12 volts and 2 amps on 24 volts. These hazardous location lights are lighter weight and do not require ballast replacement. The solid state LED lights are impervious to vibration and offer consistent performance and start times in extreme temperatures. Finally, with 50,000 life hours, operators will devote less time and money to re-lamping these fixtures."
Larson Electronics manufactures and sells a wide range of hazardous location lighting and blowers for commercial, industrial and military applications. You can learn more at magnalight.com or 1-800-369-6671 (214-616-6180 international).
###