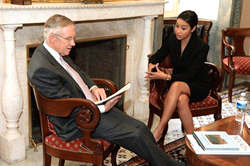 This is a reform platform that would have helped Eric and will help millions of others who could find themselves in the same situation
(PRWEB) October 27, 2009
New York, NY Television journalist and former CNN anchor Veronica De La Cruz is calling the recently proposed Senate health care reform bill "Eric's Law," in honor of her brother's tragic battle against insurance red tape. The legislation, which merges the Senate's HELP and Finance Committees' bills, was announced by Majority Leader Harry Reid on Monday and is to include a form of public insurance option, also long supported by De La Cruz.
"This is a reform platform that would have helped Eric and will help millions of others who could find themselves in the same situation," said De La Cruz, who has traveled the country sharing the emotional story of how her brother, Eric De La Cruz, was denied coverage by private insurers because his diagnosis of cardiomyopathy was considered a pre-existing condition. Despite an extraordinary awareness and fund-raising campaign staged by his sister, Eric passed away July 4, 2009 while awaiting a transplant.
"If we can get legislation that offers both a public option of some kind to make health care coverage available and affordable to all, plus an end to insurance discrimination based on pre-existing conditions," De La Cruz continued, "then I feel like all the work that we've put into this will have been worth it. Nothing is going to bring my brother back. But 'Eric's Law' would ensure no one else has to suffer the way that he did."
De La Cruz, a former CNN anchor and internet correspondent who is now with the TV Guide Network, is circulating a petition she plans to deliver to Congress in order to help ensure the bill has enough votes to avoid a Republican filibuster on the Senate floor and, ultimately, enough votes for a final bill to pass in coming weeks. She is also featured in the November issue of Glamour magazine, where she discusses how she is honoring her late brother with her public advocacy of health care reform. In the article, "What Big Sister's Love Can Do," De La Cruz details the obstacles which she and her brother faced during his illness and how the pending health care reform legislation may remove many of them.
"I promised Eric I would do everything I could to change the system so that others weren't put in the situation we were," she stated. "I want every single member of Congress to know Eric's story. I won't stop demanding action until Eric's Law makes insurance available for anyone who needs it."
Veronica's "Eric's Law" petition to Congress is available at http://www.thepetitionsite.com/1/Erics-Law and the entire Glamour article is available at the weloveeric website.
# # #