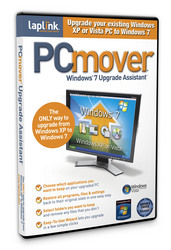 Moving from XP to Windows 7 is one of the biggest challenges our customers will face over the next year
Bellevue, WA (PRWEB) October 28, 2009
Laplink Software, Inc. announced today that it has made its newest and most anticipated version of its best-selling program, PCmover Windows 7 Upgrade Assistant, available for licensing to service and support organizations desiring to provide upgrade services to Windows 7 from Windows XP (and other versions of Windows 2000 and later).
PCmover is the best-selling program in the PC migration category and the only software able to move programs, files and settings from an old PC to a new PC.
Microsoft does not support in-place upgrades from XP to Windows 7 (only from Windows Vista) - but Laplink does. Laplink's PCmover is the only software program that can perform a true in-place upgrade from Windows XP to Windows 7 on an existing PC. It is able to relocate files, settings and even programs from the old operating system into the new one - preserving the data, user settings and programs without the need for an external hard drive without risk of loss.
"We have already licensed our technology to several service providers who provide IT solutions to consumers and businesses," said Mark Chestnut. "Because our technology is unique and it provides a significant margin improvement over alternatives, this becomes an easy decision. Some consumers and businesses will buy our software and perform the upgrade or migration themselves. But many would prefer to have professional assistance, and that's where Laplink partnering with organizations like Fast-Teks and Support.com makes a lot of sense."
The dilemma Windows XP users are facing will result in many users needing help to ensure their PC is upgraded quickly and without issue. Many users have yet to understand Microsoft does not support a so-called "in-place upgrade" from XP to Windows 7 - or that Microsoft actually recommends using an IT professional to accomplish the transition from XP to Windows 7.
"Moving from XP to Windows 7 is one of the biggest challenges our customers will face over the next year," said Anthony Rodio, Chief Operating Officer of Support.com. "Some will need help migrating to new hardware; others will want to upgrade their existing PC from XP to Windows 7. By offering a support package that includes PCmover technology, we are able to cost-effectively support these customers."
Up to 70% of computers are still running Windows XP and many of those will likely be upgraded to Windows 7. Without PCmover, the user is forced to copy their data and settings to an external drive, install Windows 7, reinstall all their applications, and then copy all their data and settings back to their PC. In addition to the risk of losing data, the process is very time consuming. Plus, the user must find their old CDs and serial numbers to reinstall their applications.
Given the difficulty of upgrading from XP to Windows 7, the opportunities available for businesses to capitalize on helping users adopt Microsoft's newest (and perhaps best reviewed) operating system is unprecedented.
"We believe that this attractive-priced service of upgrading PCs from XP to Windows 7 - as well as full migrations from an old PC to a new one - is something that will allow us to continue to meet the needs of today's home technology consumers," continued Rodio.
While upgrading from Windows XP to Windows 7 is one challenge Laplink helps solve, an even larger number of users will face the difficulty of moving everything off their old PC to a new Windows 7 PC without losing anything. PCmover is the only software program capable of moving all programs, files and settings from an old PC to a new PC.
"Laplink's goal is to facilitate adoption of Windows 7, whether upgrading or moving to a new PC," added Chestnut. "We strongly support Windows 7, which is a great operating system. There's just a few implementation hurdles and that's where we can help by bringing down the cost of moving to Windows 7. That includes our software being used by Support.com and similar businesses for external customers as well as licensing to organizations of all sizes to help them cost-effectively adopt Windows 7 internally."
All new versions of PCmover include the Upgrade Assistant feature. The new versions of PCmover include:

PCmover Windows 7 Upgrade Assistant™: A low-cost special edition of PCmover that is restricted to performing in-place upgrades.
PCmover Professional: The best-selling version of PCmover among consumers and businesses. Allows end-users to upgrade an existing PC or migrate to a new PC with full selectivity of programs, files and settings. Fully compatible with multiple profiles and domain users.
PCmover Home: A full version of PCmover at a lower price than Professional which moves files, settings and programs to a new PC or assists with upgrading an existing PC.
PCmover Netbook: Just like Professional, except at a lower price - and the destination computer must be a Netbook.
Laplink also offers volume licenses of its Business and Enterprise versions of PCmover. These versions are enhanced to meet the needs of IT personnel performing migrations at any size organization with simple customization options.
Prices & Availability
PCmover Windows 7 Upgrade Assistant is available now and priced for a limited-time at $19.95 (special limited time pricing). The price is normally $29.95.
PCmover Professional's SRP is $69.95 for packaged product; $59.95 for download at http://www.laplink.com. Multiple license discounts are available. Both PCmover Home and Netbook Edition are priced at $39.95.
Customers can purchase any version of Laplink PCmover at http://www.laplink.com or through most software retail stores and online retailers worldwide.
About Laplink Software, Inc.
For more than 25 years, Laplink has been the leader in providing software used for PC migration, remote access, file transfer, and synchronization. The privately-held company was founded in 1983 and is headquartered in Bellevue, Washington.
For more information about this release, please contact:
Laplink Software Press Contact
Daniel Donohoe, Public Relations
+1-425-952-6023
Additional information and images can be found online at Laplink's Media Center.
###