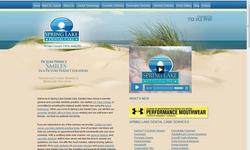 Spring Lake, NJ (Vocus) October 28, 2009
One cosmetic dentist in Monmouth County, New Jersey is helping kids protect their teeth and giving back to U.S. soldiers oversees this Halloween. Dr. Peter Ciampi and Spring Lake Dental Care are participating in the Halloween Candy Buy Back program, an event growing in popularity across the country. For $1 per pound, Dr. Ciampi will pay trick-or-treaters to take this year's candy haul off their hands – then ship the treasure trove of sweets over to our men and women fighting in foreign lands. Kids are also encouraged to bring cards, drawings, and letters to the troops they'd like to send along with the candy.
Every year, kids across the globe consume about 2 percent more sugar than the last. With about 50 million tons of sugar being consumed annually, extra attention needs to be paid to make sure children are taking care of their teeth and gums to maintain oral health and prevent current and future dental problems. Moderating, or even staying away from candy altogether, can not only protect your child from broken teeth or damaged braces, it can also lessen the risk of developing weight problems or hyperactivity issues. And with the Halloween Candy Buy Back program, Dr. Peter Ciampi says children can get cash, protect their teeth, and contribute to a worthy cause all at the same time.
On Monday November 2nd from 3-6 pm, and Tuesday, November 3rd from 2-5pm, parents and their children can drop by Dr. Ciampi's practice offering family and cosmetic dentistry in New Jersey. Candy will be weighed and Dr. Ciampi will pay $1 for every pound of sweets. After the candy is bought, Spring Lake Dental Care will ship the haul over to our soldiers fighting in Iraq and Afghanistan.
Anyone can participate in the Halloween Candy Buy Back program, not just patients at Spring Lake Dental Care. Dr. Ciampi says the program covers so many worthy causes – protecting young teeth and gums, giving something to our fighting men and women, and providing incentives for kids to stay away from too much sugar – he looks forward to making Halloween Buyback an annual event.
And that may be enough to keep the little trick-or-treaters smiling for years to come.
About Peter Ciampi, DDS, MAGD and Spring Lake Dental Care
Spring Lake Dental Care in Monmouth County offers a comprehensive range of cosmetic and general dental procedures, including tooth-colored fillings, periodontal (gum) care, dental implants, Invisalign® clear teeth aligners, and teeth whitening in New Jersey.
Dr. Peter Ciampi is a member of the American Academy of Cosmetic Dentistry, and has earned mastership status in the Academy of General Dentistry. He is also certified in oral conscious sedation techniques, designed to help patients who suffer from dental anxiety attain dental care without the pain and discomfort often feared when visiting the dentist. Dr. Ciampi is a clinical assistant professor at the University of Pennsylvania School of Dental Medicine, and served at the U.S. Naval Academy and on the aircraft carrier USS Kitty Hawk while a member of the United States Navy Dental Corps. He has headed the practice of Spring Lake Dental Care for more than 20 years, and continues to focus his services on including a wide array of procedures capable of treating dental issues ranging from routine teeth cleaning to complex teeth and gum care.
For more information on the Halloween Candy Buy Back program and treatments such as porcelain dental veneers in New Jersey, Spring Lake Dental Care can be reached at 310 Morris Avenue, Spring Lake, New Jersey 07762 – (732) 312-5910; or via http://www.springlakesmiles.com.
###