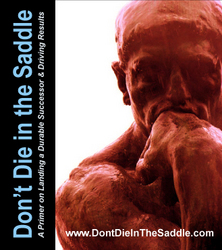 Washington, DC (PRWEB) October 28, 2009
Equity Corps, which offers independent companies an alternative to an executive search firm and specializes in durable founder succession and CEO search, announced that it is launching a Founder/CEO Breakfast Workshop Series. The first workshop in the series is Don't Die in the Saddle, a founder's primer on landing a durable successor and delivering results together.
The Founder/CEO Breakfast Series will focus on issues of interest to founders, owners and leaders of established private independent companies, including founder succession, top C(x)O acquisition, and business acceleration.
Don't Die in the Saddle, the first workshop in the Founder/CEO Breakfast Series, is an opportunity for Founders, Owners, and CEOs to join an intimate group of like-minded leaders of independent companies and explore what it takes to land top executive talent and win together. The focus of the workshop will be a real-world Founder Succession Case Study, which participants tackle hands-on with a small team of peers. The case study is preceded and informed by a briefing on key trends and current conditions in the executive talent market.
Over the past 20 years, the U.S. Market for Executive Talent has undergone significant structural changes. Today, professional corporate executives increasingly operate as Free Agents. Few have more at stake in Executive Free Agency than independent businesses. As retirement looms on the horizon for Founder/CEOs, many businesses will need to bring in outside executive talent to facilitate succession and/or help build-up and harvest the company. Because of Executive Free Agency, Independent companies have an unprecedented opportunity to compete against big corporations for top executive talent.
Don't Die in the Saddle will be facilitated by Equity Corps' Founder, Steve Ely. A native son of Washington, Steve began his career in the family printing business. To escape, Steve went back to school and earned an MBA from the University of Chicago. After business school, Steve helped lead turn-arounds on behalf of private equity investors, including Bain Capital, Hoak Capital, and Sun Capital. Since then, and prior to founding Equity Corps, Steve has served family and founder businesses as a CXO On Demand.
Sponsor and participant feedback on prior Equity Corps sessions has been positive.
"Thanks for a magnificent session last night. The presentation was very well organized," says Michael Cohen, President, IMC National Capital. "Your style was enthusiastic and engaging. I've received several accolades."
Paul Brickman, Chairman, MENG DC says "Steve, it's clear you have your finger on the pulse of what is going on in corporate America ...engaging and inspiring."
About Equity Corps:
Equity Corps is an alternative to executive search. We specialize in helping independent companies acquire exceptional executives and achieve outstanding financial results together. We differ from an executive search firm in three ways -- 1) Proven C(x)Os Fast (vs. months and months); 2) Business Results Focus (vs. staffing focus); and 3) Win-Win Fee Structure (vs. lump sum fees). To learn more, visit us online at http://www.equitycorps.com.
###