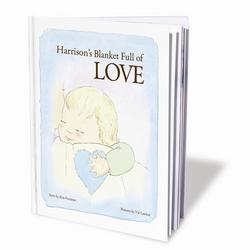 We are thrilled with this partnership and confident that our customers will be too
Calgary, Canada (PRWEB) October 29, 2009
Starrytime Keepsakes Ltd., publishers of the award-winning personalized children's book Blanket Full of Love, is proud to announce its partnership with SharedBook Inc., a New York-based content transformation company. Since its introduction in 2006, Blanket Full of Love has become a favourite of celebrities like Gwyneth Paltrow, Brooke Shields, Christine and Kevin Costner, and Jason Priestley. Now, visitors to http://www.Starrytime.com (Starrytime Keepsakes) will create their own personalized edition even more easily with SharedBook's unique create-a-book online tool.
Starrytime Keepsakes' Blanket Full of Love is a touching hard-cover personalized children's book that features the child's name, likeness (there are 20 beautiful watercolor illustration sets to choose from) and a custom dedication page, and tells them how much they are loved. In the book, a baby blanket is a reminder of how much the child is loved as s/he grows. It makes a memorable baby, birthday, holiday, or christening gift for children 0 to 6 years of age. The book is a proud recipient of an iParenting Media Award and a Family Choice Award.
Gift-givers and book buyers will experience the ease of personalization of their book. As users enter their child's information, including their choice of illustration and custom dedication, the book will preview and change. Users may also choose to upload a photo to the dedication page, making their book even more unique and personalized.
Additionally, the Starrytime partnership with SharedBook Inc. will create:

Lower price - SharedBook's streamlined book creation process will allow for Starrytime to reduce the price of Blanket Full of Love to $44.95 (previously $49.95).
Better, faster shipping options - Starrytime will now be able to offer FREE standard shipping of Blanket Full of Love in the USA, as well as many expedited shipping options, ensuring gift-givers get their books on time.
International delivery - formerly only available in North America, Blanket Full of Love can now be ordered and delivered worldwide.
"Our partnership with SharedBook will now allow us to deliver our product in a manner that is even more intuitive and streamlined," said Kim Freeman, author of Blanket Full of Love and Starrytime Keepsakes founder. "We are thrilled with this partnership and confident that our customers will be too".
Blanket Full of Love is a hard cover, 30-page full-color personalized book which can be ordered from Starrytime.com for $44.95. Gift certificates are also available.
About Starrytime Keepsakes Ltd.
Founded in 2006 by Kim Freeman, Starrytime Keepsakes Ltd. publishes the award-winning Blanket Full of Love personalized children's book, available at http://www.Starrytime.com (Starrytime Keepsakes). Starrytime Keepsakes' mission is to create joyful memories for children and beautiful keepsakes from loved ones.
About SharedBook
SharedBook is a provider of content transformation technologies for consumers, online publishers and enterprises that facilitate the evolving relationship between readers and written works. The SharedBook platform enables the dynamic transformation of digital content into formats that fit the varying needs and purposes of consumers and professionals, turning online content into customized and personalized formats, such as flipbooks on the Web, downloadable PDF's, or professionally printed books, as well as transforming conventional documents - from books to legislation to memos or reports - from static monologues to dynamic dialogues. For more information, please see http://www.SharedBook.com.
###