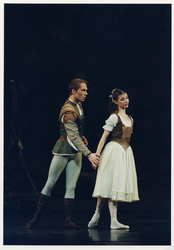 I consider Sir Peter's Giselle the best in the world and I was overwhelmed and thrilled when he generously suggested that, as his Giselle is so embedded in me, I should stage his production for Sarasota Ballet
Sarasota, FL (Vocus) October 28, 2009
The Sarasota Ballet launches its 2009-2010 season with performances of Sir Peter Wright's Giselle, November 27-29, 2009 in the Sarasota Opera House featuring internationally renowned stars of The Royal Ballet, Alina Cojocaru and Johan Kobborg. Sharing the roles in alternating shows will be Sarasota Ballet Principals Victoria Hulland and Octavio Martin. The production is being staged by Margaret Barbieri, a former principal of The Royal Ballet who has danced the title role in Sir Peter Wright's Giselle more than any other ballerina since the production premiered in 1966.
"I consider Sir Peter's Giselle the best in the world and I was overwhelmed and thrilled when he generously suggested that, as his Giselle is so embedded in me, I should stage his production for Sarasota Ballet," says Margaret Barbieri.
In addition, the company is pleased to announce that Emil DeCou, currently Associate Conductor of the National Symphony, former Music Director San Francisco Ballet and conductor of The American Ballet Theater, will be collaborating with Sarasota Ballet to conduct an orchestra for this world-class production of Giselle.
"Dancing to recorded music is no comparison to a production with the energy and magic of live orchestral accompaniment," says director Iain Webb. "The start of this season is a dream come true for our company. Imagine performing Sir Peter Wright's production with live orchestra, using the sets and costumes designed by Peter Farmer. It would be rare to see a production of this magnitude anywhere but in major cultural capitals such as New York or London."
Since working together on the original 1966 Stuttgart production of Giselle, Peter Farmer has designed almost all of Sir Peter Wright's productions worldwide. Peter Farmer also worked closely with Iain Webb when designing the sets and costumes for K Ballet's production of Giselle in Tokyo. These sets and costumes are being provided with the generosity of Tetsuya Kumakawa and the Tokyo Broadcasting System.
Performing in Sir Peter Wright's Giselle, the Royal Ballet's Alina Cojocaru and Johan Kobborg
Cojocaru, promoted to principal by Sir Anthony Dowell after her first performance in the title role of 'Giselle' with The Royal Ballet in London, is widely considered the most inspiring dancer in today's international ballet world to take the role. An April 29, 2009 New York Times review of a London performance of 'Giselle' noted, "For an improbably long time, showers of blooms rained down on Alina Cojocaru after her performance of "Giselle" at The Royal Opera House last week."
Kobborg, former principal of The Royal Danish Ballet and now principal of The Royal Ballet and Cojocaru's partner, is equally renowned as one of the leading male dancers today. He has been the recipient of numerous prizes and awards, including the Nureyev International Competition (Grand Prix 1994), USA International Competition, Jackson, USA (Grand Prix 1994) and the Erik Bruhn Competition (1993) and received a 2006 Laurence Olivier Award nomination for his production of La Sylphide.
"In 1992 I saw Johan as a young dancer in Denmark and immediately brought him to England to perform for the first time there in a Gala I produced. Then we went on to co-produce a show in London featuring Johan and Alina called 'Out of Denmark'. It's exciting to have close friends here to perform in this production."
Cojocaru and Kobborg's unique partnership and artistry have captured the hearts of audiences all around the world where they have made guest appearances, including dancing with the Mariinsky Ballet, Bolshoi Ballet, La Scala Ballet, National Ballet of Canada, Hamburg Ballet, Stuttgart Ballet, Vienna State Opera Ballet and Teatro San Carlo, Naples, to name a few.
Subscription tickets are still available in packages starting as low as $90 for the three-program Opera House Series. Single tickets are available on line at http://www.SarasotaBallet.org or by calling the Box office at (941) 351-8000/ (800) 361-8388.
For information about the entire season, please contact the Sarasota Ballet at (941) 359-0099 ext. 102 or visit http://www.SarasotaBallet.org.
Summary of GISELLE
Choreography: Marius Petipa (after Jean Coralli and Jules Perrot)
Staging: Sir Peter Wright's production staged by Margaret Barbieri
Music: Adolphe Adam Libretto: Théophile Gautier, Jean Coralli & Vernoy de St Georges
Premiered 28 June 1841 at Théatre de l'Académie Royale de Musique, Paris and 1884 Maryinsky Theatre, St Petersburg. Sir Peter Wright's production of Giselle premiered in Stuttgart in 1966 but had its London premiere at Covent Garden in 1968, by Royal Ballet Touring Company.
The crowning achievement of the Romantic ballet and an enduringly central part of the repertoire, Giselle perfectly exemplifies how ballet is a living tradition, taught, preserved, adapted and handed down, from generation to generation. Sir Peter Wright's internationally-acclaimed staging is probably the definitive and most authentic production available.
Giselle, originally staged with great success in 1841 as a vehicle for the star Carlotta Grisi, and was choreographed by Jules Perrot and Jean Coralli, and went on to triumph in London, St Petersburg and Vienna (1842), Berlin and Milan (1843), and Boston (1846), but passed out of the Paris Opéra repertoire in 1868. In 1884 Marius Petipa, who essentially took the French repertoire to Russia with him, restaged Giselle at the Imperial (Maryinsky or Kirov) Theatre, making his own changes, additions and omissions, as he did again in 1899 and for Anna Pavlova in 1903. Petipa's version was notated and forms the basis for subsequent revivals, although most Western productions are based on the Ballets Russes 1910 staging for their second Paris season.
Count Albrecht of Silesia, in disguise as the peasant Loys, romances a young and sensitive village girl, Giselle, who falls completely in love with him and rejects her jealous admirer Hilarion, a village hunter, despite his suspicions about her new beau and her mother Berthe's concern that the girl is over-exerting her delicately-balanced emotions. Their alarm is justified with the arrival of an aristocratic hunting party including Bathilde, the Count's beautiful and gracious fiancée, whose kindness to Giselle is brutally followed by Hilarion's revelation of Loys as the Count. The despairing, overwrought girl sees the sword on the ground and in her madness, she stabs herself and dies.
Act Two takes place near Giselle's forest grave, haunted by the Wilis and their Queen, Myrtha, the ghosts of jilted brides who revenge themselves by dancing to death any man they meet. Both her suitors visit Giselle's grave. Hilarion falls victim to the Wilis, but when Albrecht is about to suffer the same fate, the spirit of Giselle intervenes and saves him from Myrtha's merciless revenge, and the ballet ends with Giselle's spirit finding peace by rejecting the Wilis and forgiving Albrecht.
Summary Copyrighted by Tim Tubbs © 2009
Sarasota Ballet 2009-2010 Season Overview
Giselle
November 27 – 29, 2009 - Sarasota Opera House
An incomparable production by Sir Peter Wright of the most famous of all the Romantic Ballets
Friday, November 27, 8 PM
Saturday, November 28, 2 PM & 8 PM
Sunday, November 29, 2 PM
The Nutcracker
December 4 – 5, 2009 - Sarasota Opera House
A revival of Robert de Warren's production of this holiday favorite
Friday, December 4, 7 PM
Saturday, December 5, 2 PM & 7 PM
Triple Bill With Ashton, Darrell And Bourne
January 29 – 31, 2010 - FSU Center
All new to the repertoire - Sir Frederick Ashton's charming ballet Les Rendezvous, Peter Darrell's Othello set to the riveting music of Liszt, and the American premiere of Matthew Bourne's Boutique, set in 1960's Carnaby Street.
Friday, January 29, 8 PM
Saturday, January 30, 2 PM & 8 PM
Sunday, January 31, 2 PM
Triple Bill With Prokovsky, Divertissements And Walsh
February 19 – 21, 2010 – FSU Center
An encore of the late Andre Prokovsky's Vespri, and select pas de deux and solos including Anna Pavlova's solo The Dragonfly and Dominic Walsh's I Napoletani
Friday, February 19, 8 PM
Saturday, February 20, 2 PM & 8 PM
Sunday, February 21, 2 PM
Triple Bill With There Where She Loved By Christopher Wheeldon
April 2 – 3, 2010 - Sarasota Opera House
Renato Paroni's Rococo Variations, Christopher Wheeldon's There Where She Loved, and John Cranko's Pineapple Poll
Friday, April 2, 8 PM
Saturday, April 3, 2 PM & 8 PM
Triple Bill With Balanchine's Donizetti Variations, A World Premiere And Bourne's Infernal Galop
April 23 – 25, 2010 – FSU Center
George Balanchine's Donizetti Variations, a new work by The Sarasota Ballet dancers, and Matthew Bourne's The Infernal Galop.
Friday, April 23, 8 PM
Saturday, April 24, 2 PM & 8 PM
Sunday, April 25, 2 PM
###