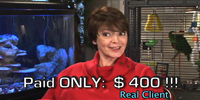 It was great to hear that Melissa has been able to buy a house
Burbank, CA (PRWEB) October 29, 2009
Power Tax Relief prides itself in being the front runner in tax relief and realizes that Americans suffer tremendously from the stress of unsettled tax debt. Power Tax Relief believes in each and every customer and strives to accommodate their needs by relieving their debt by unsurpassed amounts.
Power Tax Relief assisted fisherman Melissa Dunnion by reducing her $22,000 debt down to just $400 With the help of PTR, customers with devastating tax predicaments find a way out of financial turmoil.
"For years I had been a commercial fisherman. I filed my taxes year after year, but I never really paid them," said Dunnion. "I incurred a debt of approximately $22,000. The IRS held a federal tax lien on my vehicle, stopped me from opening a bank account and prevented me from owning anything of my own. I did not realize the consequences of not paying my taxes. Thanks to Power Tax Relief and their great team of experts I was able to settle my debt."
Power Tax Relief understands that situations like Melissa's are more common than most realize. "It was great to hear that Melissa has been able to buy a house," said Steve Edwards, Senior Vice President. "PTR wants people to know that they are not alone in dealing with their tax complications. Power Tax Relief is here to help in any situation, big or small."
About Power Tax Relief: Power Tax Relief is a full service tax resolution firm, comprised of attorneys, enrolled agents and tax professionals. PTR is recognized as the most trusted name in the business, and has taken this designation seriously. PTR has successfully helped thousands of businesses, and individuals resolve their debt with the IRS and State. For more information, call: 800-527-5915 or visit online at: http://www.powertaxrelief.com
Free confidential consultation. 800-527-5915
###