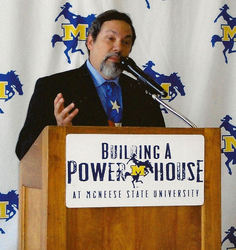 There are many factors when considering the success of programs
Lake Charles, LA (PRWEB) October 29, 2009
Mike Fuljenz, Russell Tritico and Tommy Tuminello, three longtime supporters of McNeese State athletics, have been inducted into the university's athletic Hall of Honor on Saturday Oct 24, 2009. They were recognized during halftime ceremonies at the McNeese State - Southeastern Louisiana football game.
"There are many factors when considering the success of programs," said McNeese athletic director Tommy McClelland in announcing this year's inductees. "Good student athletes, good coaches, good administration and good support are essential. Good support is one of the biggest keys for success that you can have. These three gentlemen have demonstrated that support of our programs for many years and this is just one way that we can show our appreciation."
The Hall of Honor was established in 1987 and with the induction of the three new honorees this year, membership in the Hall will go to 37. The new three honorees have been members of various boosters clubs since their inception. Fuljenz was a founding member of the McNeese Tipoff Club and serves on the board of directors of the McNeese Athletic Foundation. Both Tritico and Tuminello have been longtime members of the McNeese Quarterback and Tipoff Clubs as well as the McNeese Foundation and the McNeese Athletic Foundation. Tuminello currently serves as a board member of the McNeese Foundation.
Fuljenz, who is president of Universal Coin and Bullion, Ltd, was a Cum Laude graduate in chemistry and biology at Louisiana-Lafayette. He gravitated from an education career as a teacher to a career in the coin and precious metal industry. He is now a highly respected expert in the coin and precious metal industry and has made over 20 appearances on the CNBC programs Smart Money, Steals and Deals, Money Wheel and Money Talk. He has also won three book of the year awards from the Numismatic Literary Guild in a specialized category.
Fuljenz who lives in Beaumont, has been involved in McNeese athletics since the 1960s and was responsible for twice bringing in national personality Dick Vitale to speak at tipoff banquets. In the 1980s and 1990s he was a contributor to The Sporting News and had his own sports radio talk show over WWL in New Orleans. He also was a main factor in the first ESPN telecast of a Southland Conference basketball tournament.
Tritico has been a practicing attorney since 1951 in Lake Charles. He obtained his education from Notre Dame, McNeese State and the Loyola School of Law, passing the Louisiana State Bar Exam in 1951. He is currently a board member of the Chennault International Airport Authority and is a former commissioner of the Lake Charles Harbor and Terminal District.
Tritico, who was born in Franklin and went to Rosteet Elementary and Landry Memorial High (now St. Louis Catholic High) in Lake Charles, is certified by the National Board of Trial Lawyers as a specialist in both Civil and Criminal Trial Advocacy. He was named as a Best Lawyer in America in 2007 and 2008 by Best Publications. Away from his law practice, Tritico, who served in the U.S. Naval Reserve, was a co-founder of the old Black Angus Restaurant and of Gatsby's in Lake Charles. He has also taught leisure learning classes at McNeese State for home repairs, fishing rod wrapping and tarpon fishing, and he is a pilot, certified in the operation of a single engine craft. Tritico and wife Thelma are faithful McNeese football fans and have been following the team for many years, both for home games and away games.
Tuminello, now retired after running Lake City Beverage, is a native of Shreveport and served in the U. S. Army during World War II, being one of those storming Omaha Beach on June 6. He had been trained as an Army medic at Camp Barclay outside of Abilene, TX but once in Europe he became a combat engineer until the end of the war. He was in the first wave of attack at Omaha but his ship was turned back due to inclement weather. The next night the boat left again, hitting a mine but landing at Omaha Beach. Tuminello and partner Joe Piekarski were given the task of scouring the beach for landmines and retrieving dynamite from his ship while under heavy artillery fire. That dynamite was used to blow a hole in the cliffs of Normandy and allow tanks to get to the top. On returning home, Tuminello worked briefly for Texas & Pacific Railroad and then went into the beer distributorship business, eventually founding Lake City Beverage. He and his wife Delores have been longtime patrons of the McNeese Foundation, establishing the Delores and Tom Tuminello Professorship and creating the Delores and Tom Tuminello Art Series in the department of visual arts.
Mr. "T" has also been long been a follower of Cowboy football, basketball and baseball and has seen his share of contests both home and away. During the 1980s and 1990s he was a member of the media entourage that traveled with the Cowboys for both football and basketball games.
McNeese Hall of Honor Inductees
2009 Mike Fuljenz, Russell Tritico, Tommy Tuminello
2003 John Baker
2000 Ron Dingler, Tommy Bogle
1999 Roy Raftery Jr.
1997 Dr. David Wallace, John Bruney
1995 Billy Navarre, Larry Stout, Lynda Green, Terry Royer
1994 Frank Landry, Larry Thomas, Dale Bayard
1992 A. W. Noland, Bill Hale, Richard Guillory
1991 Dowell Fontenot, Norman Morgan, J. D. Morgan, Fred Thomas
1990 Dr. David Drez, Philip Tarver
1989 Johnny Abraham, Carl Shetler, Earl Barger
1988 Walter Phillips, Johnnie Caldarera, Russell Chambers,
Buck Buchanan, Bill Dore'
1987 Jack Lawton, Bill Lawton, Kenneth Levingston, Voris King,
Morris Guttman
###