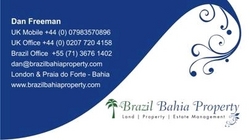 Unlike other property companies, we are exclusively agents, we do not build our own developments, therefore we are able to pick and choose which developments to work with based on our clients needs. Most other property companies are exclusively tied to their own development therefore tend to talk their own book
(PRWEB) October 31, 2009
Brazil Bahia Property Ltd a UK and Brazilian Real Estate Company, celebrates it's second anniversary trading real estate in the Bahia region of North-Eastern Brazil. The company has grown considerably, now becoming one of the biggest agents of second hand property in the state of Bahia, with currently around £1bn of property for sale.
Director Dan Freeman stated; "Unlike other property companies, we are exclusively agents, we do not build our own developments, therefore we are able to pick and choose which developments to work with based on our clients needs. Most other property companies are exclusively tied to their own development therefore tend to talk their own book". Our website displays the company's property portfolio whilst providing buyers, sellers, investors and vacationers with a specialized resource of information. Brazil Bahia Property Real Estate Services
People talk of Brazil and its potential for the future forgetting that it is already the world's 10th largest economy. As part of the BRIC nations, it is widely acknowledged that Brazil will become one of the world's largest economies and most powerful nations. The economy is growing rapidly, inflation is stable and interest rates are falling. In the recent recession, Brazil was one of the best performing economies globally and it also has one of the world's safest banking systems. Investing in Brazil
Unlike many other countries in the world, Brazil's property market is not so reliant on credit. This has been hugely significant in the recent economic downturn and has meant that the Brazilian property market has been one of the most resilient in the world. Importantly, this is now changing and this spells great things for the property market. Legislation to force banks to lend and falling interest rates mean the provision of credit is becoming more widely available. For the first time the lower middle classes, gaining access to credit which will give a huge boost to the property market for many years ahead.
Brazil Bahia Property Ltd sells everything from tropical islands and beach mansions in locations such as Trancoso, Praia do Forte and Arraial d'Ajuda to holiday apartments, commercial premises and working farms. Bahia Real Estate
Brazil Bahia Property and Imoveis Brasil Bahia were launched to offer unbiased property advice and sales throughout the state. Dan Freeman stated' there was a lack of transparency in real estate sales and I wanted to offer a service to Brazilian's and the international market alike that would create a showcase for property in the region. Our website and agencies have been very successful and we are now taking on a variety of development projects with exclusivity.
".our service, international presence and local knowledge make us the number
one specialists for all your property needs in the Bahia region!" Said Dan Freeman the company's President
With offices in London, UK and Bahia, Brazil and additional offices planned for 2010, we provide a one-stop property service for all buyers, sellers, investors and vacationers interested in the Bahia area.
Brazil Bahia Property Ltd opens a new door to all buyers, sellers, investors and vacationers interested in the Bahia area through the websites http://www.brazilbahiaproperty.com and http://www.imoveisbrasilbahia.com.br
The Number One Bahia Property Specialists
###