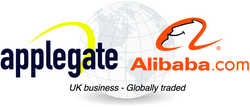 This agreement will allow Applegate listed businesses to interact directly with millions of registered Alibaba.com users, potentially opening new commercial opportunities for UK SMEs at a time in the economic landscape when focus on finding new customers and driving revenues is vital
London, United Kingdom (PRWEB) October 30, 2009
Alibaba.com and Applegate sign marketing partnership to promote UK businesses internationally
Alibaba.com, the world's largest business-to-business (B2B) e-commerce company, and Applegate Directory Ltd, the UK and Ireland's leading online B2B directory, have announced a marketing partnership aimed at promoting UK suppliers to global buyers on Alibaba.com's international marketplace of nearly 10 million members.
Applegate features tens of thousands of suppliers across 12 industries including Business Services, Chemical, Oil & Gas, Construction, Electronics, Engineering, Plastics & Rubber and Textiles & Clothing. It regularly attracts an audience in excess of 1.5 million unique users and achieves more than 5 million page impressions every month. Under the arrangement, Applegate-listed businesses will be given a 'free storefront' on Alibaba.com, where their company and products can receive exposure to a vast, international buying audience from more than 240 countries.
Maggie Choo, EMEA Director, Alibaba.com said, "UK companies have a world class product offering which is in demand around the world, making this a key growth market for Alibaba.com. We are excited to be working with such a market-leading B2B partner, helping UK SMEs to reach out to active buyers from established markets like the US and Europe as well as emerging economies such as China, India, the Middle East and South America. This relationship delivers on Alibaba.com's promise to bring on partners to better serve the needs of our local markets and we believe that Applegate's expertise in the UK combined with our global reach will offer huge opportunities for British business."
"This agreement will allow Applegate listed businesses to interact directly with millions of registered Alibaba.com users, potentially opening new commercial opportunities for UK SMEs at a time in the economic landscape when focus on finding new customers and driving revenues is vital" commented Jon Molyneux-Bracchi, Applegate Directory Ltd CEO. With export and import growth high on the Government's agenda for ecomonic recovery, online trading platforms provide an excellent forum for greater communication and UK SME's and Applegate's marketing partnership with the market leader provides a particularly powerful solution to meet these needs."
About Alibaba.com
Alibaba. Com Limited (HKSE: 1688.HK), the flagship company of Alibaba Group, is the world's leading business-to-business (B2B) e-commerce company. Founded in 1999, Alibaba.com makes it easy for millions of buyers and suppliers from around the world to do business online through three marketplaces: an English-language marketplace for global importers and exporters, a Chinese marketplace for domestic trade in China, and a Japanese marketplace facilitating trade to and from Japan. Together, our marketplace form a community of 38 million registered users from over 240 countries and regions.
Headquartered in Hangzhou, China, Alibaba.com has nearly 8,000 full-time employees and offices in more than 40 cities in Mainland China, Hong Kong, Taiwan, Europe and the United States.
For further information contact: Linda Kozlowksi - +852 2215 5210 or email lkozlowski (at) hk.alibaba-inc (dot) com
About Applegate Directory Limited
Established in 1996, Applegate is the UK and Irelands original and most influential B2B internet directory. Applegate regularly attracts an audience in excess of 1.5 million unique users and achieves over 5 million page impressions every month. These figures are independently audited by ABC Electronic to give independent validation of site statistics.
Stock-on-Line from Applegate is rapidly becoming the UK's largest single source of online B2B stock and currently features over 5 millions items.
For further information contact: Caroline Shopland-Saich - 01271 852000 or email caroline.shopland-saich (at) applegate (dot) co (dot) uk
###