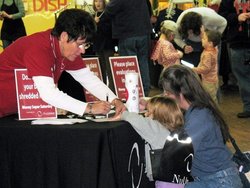 We are fortunate to partner for the third year with NuUnion Credit Union on Money Super Saturday! Every year this family-friendly event has drawn hundreds of visitors to downtown Lansing for a dynamic, scientific, and educational experience
Lansing, Michigan (Vocus) October 29, 2009
NuUnion Credit Union will partner again with Lansing's local children's museum, Impression 5 Science Center, to host the third annual Money Super Saturday – a specially-designed day of fun and educational money-themed activities for kids. The event will take place on Saturday, November 7 from 10:00 a.m. to 4:00 p.m. at the Impression 5 Science Center located at 200 Museum Drive, Lansing.
Parked outside of the science center will be an armored Brinks Truck, where kids will get the chance to visit the inside of the maximum security vehicle, and meet its guards. Along with receiving a Money Super Saturday ATM card and wallet when they arrive, young visitors will collect their own pennies at each of the event's 13 activities. NuUnion staff, the people who work with money on a daily basis, will be on hand to direct, teach, and entertain guests.
The gold rush will be on, as kids flock to the Water Room to try their hand at Panning for Gold. Others will hope to win it big, at the always popular Money Bingo. Guests can also check out the inside of a real ATM, and see a live demonstration of the machine's complex security and operating systems. Nearby, children can aim for the day's high score on a number of computer games, or check out currency from around the globe at the new World of Money exhibit. After a full day of hands-on activities, children can relax in the First Impressions Room for Story Time.
"We are fortunate to partner for the third year with NuUnion Credit Union on Money Super Saturday! Every year this family-friendly event has drawn hundreds of visitors to downtown Lansing for a dynamic, scientific, and educational experience," said Erik Larson, Executive Director of Impression 5 Science Center. Impression 5 offers other exhibits ranging from the serious to the wacky, like the Center's brand new exhibit "Your Spitting Image" where kids can learn all about the science of spit.
"Teaching our children about money is an investment in the future of our community," said Stephan L. Winninger, NuUnion's President and CEO. "Our partnership with Impression 5 Science Center complements NuUnion's financial education efforts. Kid-friendly events like Money Super Saturday reach young people in a fun and easy-to-understand way that produces informed consumers."
NuUnion members and their families will be admitted free of charge the day of the event with proof of their membership. Admission for the general public will be half price ($2.50).
To learn more about this exciting day of education, visit our website at NuUnion.org or Impression 5 at Impression5.org.
NuUnion was established in 1952 and today is over 91,000 members strong. With more than $842 million in assets and 14 branches, including eight locations in Lansing, two in Mt. Pleasant, and four in west Michigan, NuUnion believes in providing a unique service experience. Membership is open to anyone in its 28-county service area.
Impression 5 Science Center is located at 200 Museum Drive in downtown Lansing. For more details about exhibits, special events, membership and other information, please visit their website at Impression5.org, or call 517-485-8116, extension 32. Plus, you can find them on Facebook and follow them on Twitter.
###