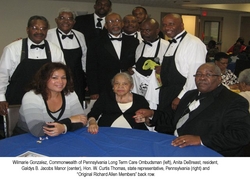 Penn-sylvania has the third largest elderly population in the country, behind Florida and West Virginia
Philadelphia, PA (Vocus) October 29, 2009
Wilmarie Gonzalez, The Commonwealth of Pennsylvania's Long Term Care Ombudsman, the first Latina ever appointed to that position, recently spoke at the Original Richard Allen Committee's Annual Senior Citizen's Event, addressing health care and other issues relating to the aging population. More than 100 senior citizen residents of Gladys B. Jacobs Manor, a nursing home in North Central Philadelphia, joined family members, friends, State Representative W. Curtis Thomas and "Original Richard Allen" members for the program. The event focused on providing relevant information to the elderly community and keeping the residents abreast of current events that may affect them and their families.
Each year the program allows the members of the Original Richard Allen Committee (ORAC) to pay their respects to the residents of Gladys B. Jacobs Manor, which neighbors the Richard Allen Housing Development on 11th Street and Fairmount Ave. Since the inception of the event, ORAC has strived to provide the residents of the home with vital information that they, like many senior citizens, may not be able to receive elsewhere. In addition, the members of ORAC also cook and serve lunch to the attendees.
In her remarks to the attendees, Gonzalez spoke on state and national health care legislation and answered questions about swine flu vaccinations for older adults and why they may not need to receive them. She also addressed why she relishes her new position as Director of the Department of Aging. "Penn-sylvania has the third largest elderly population in the country, behind Florida and West Virginia," said Gonzalez. "That is why it is important that we come to places like Gladys B. Jacobs Manor, and continue to develop relationships with our older adult population."
Turning to the subject of statewide incidents of senior abuse, Gonzalez said, "According to the Department of Aging, there are fewer than 12,000 reports of abuse filed each year by Pennsylvania senior citizens." Unfortunately, too often, many cases of abuse go unreported because they are done by someone close to the older adult, commented Gonzalez, as she explained it is important that senior citizens across the Commonwealth understand what an ombudsman does and how they can properly utilize their local ombudsman offices.
"Some of the people who reside here, used to look after me and other committee members when we were younger," said Willie Brown, member, Original Richard Allen Committee, Inc. "It is our responsibility, now, to do the same for them. This program, which we do every year, is only a small token; there is still much more we can do as an organization."
About The Original Richard Allen Committee, Inc.
The Original Richard Allen Committee, Inc. was founded 20 years ago by a small group of former residents of the Richard Allen housing development, in addition to the annual Senior's Event the committee also hosts an annual reunion wherein, members come together to renew relationships formed during their time spent in the housing development; as well as award a high school senior, from the development, with a cash scholarship to help with school expenses. The Richard Allen Housing Development, which is located between 9th and 12th Streets and between Fairmount Avenue and Poplar Street in North Central Philadelphia, was originally built in 1941.
###