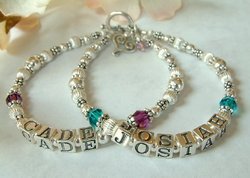 (Vocus) October 29, 2009
The online jewelry company, Bead Trends, has committed itself to being a stable and reliable company during economic slump.
Linda McWilliams, creator and owner of Bead Trends, is happy to have been a jewelry staple for over a decade, and says she's not going anywhere. Many people have tried to imitate her unique designs, layouts, photography, and even text, but after a few years they fizzle and go out of business. Customers are left stranded with no place to buy additions to their personalized jewelry, unless they want to change the look of their piece. Often customers left in this predicament will come to Bead Trends to find a complimentary addition to their jewelry collection. Bead Trends has committed itself to being a stable and reliable company through perseverance and continued success in the declining economy. Linda has been able to make Bead Trends her sole source of income while raising four children. It is a way of life for her, and a way for her to add some joy to the lives of others.
Their range of products includes necklaces, bracelets, earrings, rings, and hand stamped pendants. All pieces are made from only the finest quality sterling silver (92.5% sterling silver and 7.5% copper), bali sterling silver, and 14K gold-filled beads. Genuine Swarovski crystals are used in the adult pieces, but those intended for children's use are made with lead free fire-polished Czech glass for their safety and in compliance with the Consumer Product Safety Commission.
Their personalized pieces are the perfect gift for families and loved ones. Each bracelet is a single strand with the name of a loved one beaded on it. As their family grows, shoppers can just send the bracelet back into Bead Trends and they will add more strands with the new family member's names.
Bead Trends even offers a men's line of necklaces and bracelets. Their manly designs and color patterns compliment his masculine side while showcasing his sentimental one by including the name of his loved one beaded into it.
Linda does it all from the unique and genuine designs to any repairs customers may need on their pieces or chains. All stamping is hand done meaning each piece comes out different and unique in itself.
For samples or additional information, please contact visit http://www.beadtrends.com
Contact:
ChicExecs PR
1487 Poinsettia Ave Ste 125
Vista, CA 92081
760.992.9113
About ChicBlvd Inc: ChicBlvd Inc, a women-owned multi-media company located in San Diego , CA which began in 2004, includes three divisions--an online magazine: ChicBlvd at http://www. ChicBlvd.com, product development division: chicBuds Designer Electronics at http://www.chicbuds.com and a Public Relations firm: ChicExecs PR at http://www.chicexecs.com servicing over 80 Clients (sign up for Client updates at
http://www.ChicExecsMedia.com
###