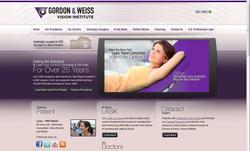 When a patient walks away, we want them to tell their friends about the experience that they had in our practice. We want to make this a life-enhancing type of experience.
San Diego, CA (Vocus) October 29, 2009
According to statistics from the National Eye Institute and Prevent Blindness America, cataracts affect 20.5 million Americans over the age of 40 and half of all Americans by age 80. Millions more Americans of all ages have poor vision caused by nearsightedness, farsightedness, and astigmatism and are forced to wear glasses or contact lenses in order to see clearly.
The Gordon & Weiss Vision Institute, a comprehensive vision care practice offering procedures such as LASIK and cataract surgery in San Diego, is launching a new website to educate visitors on the many treatments available that can improve their vision and slow the progression of debilitating eye diseases. The new website is also designed to be a virtual portal into the practice itself, offering overviews of the facility, its doctors, and their philosophy of care. One of the practice's top ophthalmologists, Dr. Jack Weiss, says that personal, individualized care is an important aspect of treatment at Gordon & Weiss. "When a patient walks away, we want them to tell their friends about the experience that they had in our practice. We want to make this a life-enhancing type of experience."
The Gordon & Weiss Vision Institute's new website features detailed descriptions of the procedures that the practice offers - including premium intraocular lenses for individuals with cataracts, implantable contact lenses, and state-of-the-art LASIK in San Diego. The practice offers some of the latest laser vision correction treatments, such as Custom Wavefront LASIK, Blade Free LASIK, and other advanced technologies, all illuminated on the new website. Drs. Weiss, Michael Gordon, and David Geffen say they wanted the website to convey a fully interactive look at the practice so that prospective patients can learn about the treatments, doctors, and technology that set the Gordon & Weiss Vision Institute apart.
The new website is equipped with web video documentaries featuring interviews with the practice's eye care specialists, as well as a financing information page for patients who are considering vision care in San Diego and would like some assistance bringing the cost of treatment into their budget. The website also includes patient testimonials, including one from local celebrity 'Sam the Cooking Guy', and a vision correction blog where visitors can stay updated on the latest updates and news.
Overall, Gordon & Weiss Vision Institute's new website - co-developed with San Diego website design firm Rosemont Media® - is designed to give detailed information on treatments available to those who suffer from debilitating eye conditions and those who are just tired of dealing with corrective eyewear to see clearly. And Dr. Gordon says that, with San Diego's mild weather, beautiful beaches, and outdoor opportunities, people may be able to enjoy themselves a lot more without the burden of corrective lenses. "In San Diego, we have surfing, water activities, beach activities, biking…some of those things are very difficult to do with glasses and contact lenses. And the enjoyment that people get out of doing (these activities) without glasses and contact lenses sometimes is overwhelming."
About Drs. Gordon, Weiss, and Geffen
Drs. Michael Gordon, Jack Weiss, and David Geffen are LASIK surgeons in San Diego and are all considered to be leaders in the fields of refractive surgery and laser vision correction. In 1989, Dr. Gordon became the first surgeon in the United States to use the Sumitt excimer laser to correct nearsightedness, and in 2003 he performed the first all-laser High-Definition Wavefront-guided laser procedure in the world.
Dr. Weiss has served as the Corneal Consultant to the US Navy and the Chief of Ophthalmology for Scripps Encinitas Hospital, Sharp Memorial Hospital, and Sharp Rees-Stealy Medical Group. A graduate of UCLA and the University of Chicago Pritzker School of Medicine, Dr. Weiss has been honored by the American Academy of Ophthalmology for his outstanding research presentation at its annual meeting.
Dr. Geffen is a prominent speaker, author, and researcher on contact lenses and refractive surgery and has achieved national recognition for his clinical work on contact lens products. He has participated in numerous studies for Bausch & Lomb, Johnson & Johnson, Allergan, Ciba, Biomedicals, and other contact lens manufacturers.
The Gordon & Weiss Vision Institute is located at 8910 University Center Lane, Suite 800, San Diego, California, 92122. For more information, the practice can be reached at 858-455-6800 or via website, http://www.gordonweissvision.com.
# # #