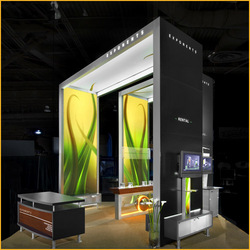 We are delighted to join forces such a strong, dynamic and progressive company
Mumbai, India (PRWEB) October 29, 2009
The Insta Group is pleased to announce its acquisition of Exponents, Inc., an award-winning manufacturer of innovative tradeshow exhibits, based in San Diego, CA. This acquisition has enabled the Insta Group to establish a strong and immediate presence within the North American market, and provides the company with a solid platform for ongoing growth and development. This is a strategically important move, because the North America exhibition services industry is estimated to be in excess of 3 billion US dollars annually, according to the Exhibit Designers + Producers Association (EDPA).
Rajnikant Kedia, Managing Director of the INSTA Group, said "This acquisition will redefine the industry and change the competitive landscape by creating an organization with unrivaled global design, manufacturing and distribution capabilities. As a result of this acquisition, the Insta Group will become one of the top five players within the portable modular exhibition industry worldwide."
The Insta Group began operations in India six years ago and has experienced phenomenal growth since that time. It soon became the largest exhibit manufacturer in India. In 2007, Insta acquired Expo Display Service, a 30-year-old European manufacturer of display solutions. Earlier this year, Insta also established a facility in Dubai, UAE to serve the Gulf Region.
Bruce Backer, Exponents' founder, will continue as the company's Chief Innovation Officer and will lead a Global Innovation Team that focuses on developing inventive new products & solutions that enable companies to maximize their success at trade shows and exhibitions around the world. "We are delighted to join forces such a strong, dynamic and progressive company," said Backer. "There are great synergies between our two organizations. Our products and distribution channels compliment each other's capabilities perfectly."
The Insta Group provides global exhibit solutions and offers an extensive range of innovative products and services to help customers achieve their objectives at exhibitions and events around the world. The company currently employs 550 people and has operations in 11 countries on 4 continents around the world. For additional information, please visit http://www.insta-group.com.
Exponents, Inc. is one of North America's most highly-respected custom-modular exhibit designers and manufacturers. Thriving on innovation, the company has won numerous awards while helping its clients to achieve their trade show goals for over 28 years. To learn more about Exponents, Inc. please visit http://www.exponents.com.
Media Contact:
Elizabeth DeLuca
Exponents, Inc.
3280 Kurtz Street
San Diego, CA. 92110
T: (800) 451.4723 or (619) 298.6473 x 100
# # #