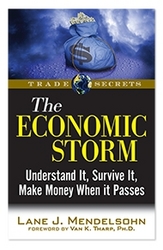 This unprecedented economic crisis we're experiencing now is the result of an alignment of many events which, at the time they happened, seemed rather insignificant
Tampa Bay, FL (PRWEB) October 30, 2009
Lane J. Mendelsohn, Founder of http://www.TraderPlanet.com, has released his first book, "The Economic Storm." which comprehensively addresses a subject that is timely to current market behavior.
"This unprecedented economic crisis we're experiencing now is the result of an alignment of many events which, at the time they happened, seemed rather insignificant," Mendelsohn explains. "All I've done is pull the pieces together to get a big-picture perspective of where things are going and what I'm doing to prepare."
Not just for novices but for any trader/investor going through a tumultuous relationship with the markets, the new book published by Marketplace Books is geared towards helping those struggling in assessing risk.
"It is written in a manner to provide both an understanding of how the economic crisis developed and yet also offers anecdotes for individual traders to consider in their current trading decisions," says Dr. Van K. Tharp, President of The Van Tharp Institute.
Mendelsohn highlights key scenarios by explaining what has taken place in global economies from an investor's perspective. He then instructs the reader on how to handle similar situations - offering viable options on how to prevail.
The book has already received accolades from noteworthy finance industry experts.
"I especially like his emphasis on markets like stocks, copper and oil as leading indicators of economic turns and why it's necessary to know the trend in those markets. He offers advice on just how to do that. I can't think of a better time for him to have written this book and for investors to read it," says John Murphy, Author of Intermarket Analysis, The Visual Investor and other books on technical analysis.
Mendelsohn, 29, has been involved in the financial industry since the mid-1980s, when he joined his father, Louis Mendelsohn, a widely recognized pioneer in the application of personal computers to trading in the financial markets, in his trading software company, Market Technologies. As a result, Lane essentially grew up in the financial industry and has known many top technical analysts, brokers, software developers, and money managers most of his life. In writing this book, he also is following in the footsteps of his father, author of a number of books on markets and trading.
Lane's vision of providing educational content to traders has resulted in the creation of several popular educational websites dedicated to helping traders become more successful, including his most recent winner, http://www.TraderPlanet.com, a social networking site that has fostered a growing community of nearly twenty thousand active traders in the first six months since it first launched in January 2009. Through their free membership at TraderPlanet, these traders from all over the world participate in a network of information sharing and on-line friendships fostered through TraderPlanet's commentaries, videos, chats, online news and quotes, product reviews, etc.
About TraderPlanet.com:
http://www.TraderPlanet.com, a Tampa Bay, FL-based social networking site, provides individual traders of all skill levels a one-stop destination for financial information and trading tools. TraderPlanet.com is the only financial networking site of its kind that offers its members a full suite of market data feeds, advanced technical tools and extensive analyst commentary across asset classes, while enabling members to give back to the broader world community through gift giving to charitable causes. Designed to level the playing field between institutional and individual investors, TraderPlanet.com's fully interactive multimedia platform is designed to promote the free-flow exchange of ideas through questions, answers and comments geared towards improving trading strategies and investment performance.
For more information, please visit http://www.TraderPlanet.com.
###