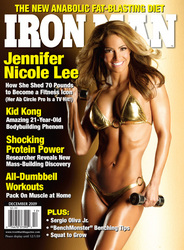 The Mind, Body and Soul Diet: Your Complete Transformational Guide to Health, Healing and Happiness
Miami, FL (PRWEB) October 30, 2009
Fitness Sensation Jennifer Nicole Lee, and author of the http://www.FitnessModelProgram.com , is the December cover model of the longest running fitness magazine to date, Iron Man magazine.
This legendary production was all caught on film, and can be viewed here http://www.youtube.com/user/TheJenniferNicoleLee and directly here http://www.youtube.com/watch?v=gicYTkKafiE . This weight loss success story turn top fitness model is on a serious cycle of success, as she accomplished defending her title at the 2009 WBFF Miss Bikini Diva Championships in September. Nicknamed JNL for short, Jennifer is the main feature of the upcoming December issue of Iron Man, which was founded in 1936.
When asked how she felt to be gracing the cover of one of the longest running publications in the bodybuilding and fitness industry, JNL enthusiastically responded "to know that I am on the last issue of 2009, marking the new beginning for women in fitness in 2010, is an indescribable feeling. I have been featured on many magazine covers, but my Iron Man cover is special, because this publication pioneered featuring women weight lifting. I am honored to know that I am a part of their legacy, helping all females to become less fearless in the weight room."
JNL, who has been featured on key media appearances such as Oprah and E! Entertainment, is to date one of the worlds most accomplished top fitness models, thus its only fitting that she tops the Iron Man magazine, since it is such an historical iconic magazine with a colorful past. In the early 1950s, Iron Man Magazine was the first weight-training publication to show women working out with weights as part of their overall fitness regimen. Jennifer is a proud mother herself stating "I love Iron Man magazine and what it stands for. This publication truly embraced the notion of women achieving their fitness goals with weight training. Iron Man magazine is even known for being one of the first magazines to show pregnant woman training with weights and educating readers on the benefits of exercise during pregnancy. For that time back then, this was unheard of. Women and mothers need to know how important resistance training is, and how they can increase their endurance, energy levels and stamina."
JNL shares her passion for fitness in her newest book, entitled "The Mind, Body and Soul Diet: Your Complete Transformational Guide to Health, Healing and Happiness", and shows how others can also achieve their fitness goals through living a balanced, fit, and healthy lifestyle. This book is being met with high regards from some of the world's leading best selling authors such as Jack Canfield of Chicken Soup for the Soul, as well as Joe Vitale of The Secret who wrote the foreward. This book may be purchased at http://www.ShopJNL.com and also personalized and autographed by JNL herself.
Lonnie Teper, a legendary figure in the bodybuilding and fitness industry interviewed JNL for her editorial feature. He was able to capture JNL's unmatchable energy in his lengthy article, which is well over 3,000 words. He was able to spotlight in his lengthy feature, giving plenty details of her rise from weight loss success story to fitness industry icon.
The December issue hits newsstands in early November, and is also available through http://www.JenniferNicoleLee.com
###