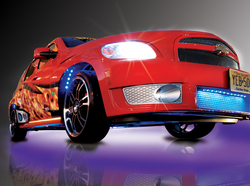 tubes per port, interconnect up to sixteen 12
Wayne, New Jersey (PRWEB) October 31, 2009
StreetGlow, Inc., the industry leader in performance and specialty lighting products, is proud to add several exciting aftermarket products and programs to its SEMA line-up: XtraSlim™ Edge Light LED Strips, XtraSlim™ Flexible Multi-color LED Undercar Kits, Multi-Color Cargo Bed Light Kit, Multi-Color Interior Light Kit, Mini 10-port Distribution Block for automotive category, Micro-thin LED Disks, Multi-color Light Kit, Mini LED Strobe Kit for motorcycle category, Merchandising Solution - High Intensity Xenon White Bulb Program, OPTX, The Ultimate Value Brand and GlowBucks™ reward program.
Xtraslim™ Edge Light Led Strips -
Stare Power - Hold everyone's gaze with StreetGlow XtraSlim™ Edge Light LED Headlamp Strips. Two rolls of ultra bright LEDs in neo blue, red, green, yellow or white accent your headlights perfectly. Just trim, peel and stick and you can have them installed in the blink of an eye.
A set of two 19" micro slim, flexible edge light LED strips are perfect for accentuating headlamp lens, door panels, gauges cluster etc. They may be trimmed to the desired length for the ultimate custom application.
MSRP: $ 34.99 (in pairs)
Xtraslim™ Flexible Undercar Kits -
COMES WITH LOTS, GOES FOR LESS - Are your customization plans bigger than your budget? The new XtraSlim™ Flexible LED Undercar Kit from StreetGlow® delivers big features on a small budget. Color changing and animation can be achieved with seven selectable colors and nine pattern mode controller. Each kit includes a 4-port controller and wireless remote key fob. For larger vehicles, additional strips may be purchased and connected separately.
Each kit includes (2) 48" and ((2) 30" Flexible Strips, wireless remote key fob and a 4-port controller offering 7 selectable colors: white, red, purple, blue, turquoise, green, yellow and 9 selectable pattern modes. Additional strips (sold separately) may be inter-connected together for larger vehicles
MSRP: $ 129.99
Multi-Color Cargo Bed Light Kit -
BRIGHTEN YOUR PLAY LOAD with this new StreetGlow's LED Cargo Bed Light Kit.
Install these four 29" LED strips along cargo bed rail for both decorative and functional lights. Features 15-minute auto shut off, 7 constant color or color changing and animation selections.
MSRP: $ 198.99
Multi-Color Interior Kit -
Take A Full Spectrum Or Color Out For A Spin. StreetGlow's new multi-color interior kit let you set 7 multi-colors and 9 patterns to music and motion. Each kit includes four 12" tubes per port, interconnect up to sixteen 12" tubes. Additional strips (sold separately) may be inter-connected together for larger vehicles
MSRP: $ 198.99
Mini 10-Port Distribution Block -
Good Things Come In Small Packages. This compact sized 10-port distribution block lets you connect up to 9 items (10th port is used to connect power and ground wire to battery). With a daisy chain of distribution blocks, you can add as many SG Neon or LED products you need to bring your vision to light.
MSRP: $ 18.99
Multi-Color Kit For Motorcycles -
Just Like A Box Of Crayon®, By All Means, Color Outside The Line. SG Motorcycle Multi-color kit includes four 12" tubes per port, interconnect up to sixteen 12" tubes, a 4-port controller which lets you select 7 colors: white, red, purple, blue, turquoise, green, yellow and 9 selectable pattern modes. Additional strips may be added for larger motorcycle or for more lighting effect.
MSRP: TBA
Polaris Motorcycle Micro-Thin Single Color Led Light Disk -
Aurora Motorcycle Micro-Thin Multi-Color Led Light Disk -
Six low profile design, high intensity output single color (MCMLD*) or multi-color (MCMLDMC) LED disks in 1-1/16" diameter are perfect for drawing attention to even the smallest and tightest areas. Optional animation may be achieved by connecting to StreetGlow Motorcycle LED Wireless Remote Controller (WCWRLC), sold separately. Distribution block is included.
MSRP: $ 39.9 (pack of 6)
Mini Led Strobe Kit For Motorcycle -
These 8 pea sized intense white LED Pods yield radical strobe light effect in multiple distinct patterns using a "soft touch" button. Perfect for highlighting engine bays, gas tanks, frames, saddlebags, dashboards, gauge clusters and speaker boxes.
MSRP: $ 59.99
High Intensity Xenon White Bulb Program -
How Many Bulbs Does It Take To Change A Driver?
Two - If they are StreetGlow High Intensity Xenon Headlight Bulbs.
StreetGlow High Intensity Xenon bulbs turn even nervous night drivers into confident cruisers. Brighter and whiter than standard bulbs, they let you fly in the face of even the darkest night. They fit the headlamps and fog lamps of most vehicles and the budgets of most drivers.
Streetglow High Intensity Xenon White Bulb display pack (HBDP24) include 2 each of the most requested xenon bulb (H1, H3, H4, H7, H10, H11, H13, H9004, H9005, H9006, H9006XS, H9007). One counter top display box fits a set of 12 assorted bulbs and a backup set for quick replenishment.
MSRP: $ 779.74 / program
Optx, The Ultimate Value Brand.
Hooked on performance lighting? Just one more LED package away from perfect? Craving a controller but low on coin? We sympathize. StreetGlow created the OPTX line to make high performance lighting technology affordable. Same great lighting effects, just a smaller price tag. Choose OPTX. Now you can Be Scene and save.
Two perfect pre-determined assortments will be introduced at SEMA. Free display racks are provided to any dealers and distributors who sign up to be StreetGlow's new value brand customer. Visit StreetGlow's booth at the SEMA, Las Vegas Convention Center, North Hall, Booth number 10512 and inquire for SHOW SPECIAL and INTRODUCTORY OFFER SPECIAL.
Streetglow Glowbucks™ Reward Program
"At StreetGlow, we value our customers. We appreciate the support our customers have shown us by purchasing our products and we'd like to reward dealers for support," stated Keith Korchma, VP of Sales.
Sign up for a StreetGlow® GlowBucks™ membership for free and start earning GlowBucks™ (GB$) for every StreetGlow® purchase made at regular price. The GlowBucks™ Reward Program offers the lowest prices on StreetGlow® selected items including LED, Neon, strobes and accessories. All are sold at below wholesale prices with all factory warranties.
Weekly (or Monthly) specially selected items are posted on http://www.streetglow.com at deeply discounted prices. Alternatively, these items may be purchased with GlowBucks™.
As of November 1, 2009, qualified Dealers earn 2% GlowBucks™ Points for every StreetGlow® purchase over $300. StreetGlow® purchases over $800 will earn an additional 3% GlowBucks™, for a total of 5% GlowBucks™ Points per purchase.
StreetGlow GlowBucks™ Rewards may be redeemed to purchase GlowBucks™ products, StreetGlow clearance products at up to 75% off MSRP. Sign up by January 31, 2010, and earn an instant $20 GB credit.
All above mentioned SG products will be available direct from StreetGlow or at participating dealers listed on http://www.streetglow.com in Spring 2010.
About StreetGlow -
StreetGlow, the leading manufacturer of aftermarket neon and LED performance lighting, lets the creativity and individuality of customizers shine. For over 18 years, StreetGlow has helped enthusiasts achieve amazing levels of artistry and the opportunity to Be Scene™ with distinct neon and LED lighting products for cars, trucks and motorcycles.
The company, founded in 1990, remains loyal to the founder's fundamental mission to manufacture performance and specialty lighting products that are durable and affordable. It reigns as one of New Jersey's fastest growing companies, made the Inc. Magazine 500 List for four consecutive years and has been featured in Entrepreneur's Business Startups, Success Magazine, The Wall Street Journal and on CNNfn and The Montel Williams Show. For more information, visit http://www.streetglow.com.
# # #