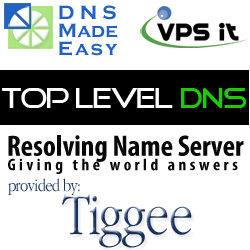 Putting your business on the Internet is our business.
Reston, VA (Vocus) October 31, 2009
DNS Made Easy, the leading IP Anycast managed DNS service provider, announced the continued success of their Going Green initiative. Energy-saving initiatives have always been a part of DNS Made Easy's business processes, but over the course of the past year DNS Made Easy has been working to combine these into a single unified green initiative that will be utilized to lower its impact on energy and the environment.
DNS Made Easy uses data centers all over the world, and it's a well-known fact that these facilities consume significantly more power than traditional buildings. Under the Going Green initiative that DNS Made Easy started following in May of 2009, all new DNS Made Easy facilities are preferred to be powered with 208 volt, 3-phase power systems. This power configuration requires fewer circuits per cage which means fewer power cables in the floor obstructing air flow and improved overall data center cooling. The 208 volt, 3-phase power is also a more efficient power distribution for powering servers, routers, and switches.
DNS Made Easy also performed aggressive testing to determine which of their hundreds of global servers fell below their benchmark for overall efficiency. After reviewing all of their systems that are currently in production and inefficient, 82% have already been replaced by higher-efficiency machines. The system replacements have actually lowered DNS Made Easy's overall power footprint by as much as 20%. DNS Made Easy notes that they were able to still expand capacity and network infrastructure during the same time these system replacements were made.
The Going Green initiative has not just ended at the data center for DNS Made Easy. DNS Made Easy has also pushed the going green initiative in the office as well. As much as 20% of their staff now carpools, telecommutes, or takes public transportation to get to work. This is a drastic change from 10% that took advantage of these options just five months ago. DNS Made Easy was able to increase this percentage by making the work schedule more flexible for employees that would were willing to participate in green commuting.
"I am proud of the success that DNS Made Easy has made in reducing our overall environmental impact, but we still have more work to do," said Steven Job, President of DNS Made Easy. "What is even more impressive is the fact that we were able to increase our server and network capacity in all markets globally at the same time. I strongly urge and challenge all other enterprise DNS and hosting companies to do their part in helping conserve energy. In today's world, it is not just enough to sell your services and make profits; you should give back to your global community as well."
More information about the DNS Made Easy service is available at http://www.dnsmadeeasy.com.
About DNS Made Easy
DNS Made Easy is a subsidiary of Tiggee LLC and is a leader in providing global IP Anycast enterprise DNS services. DNS Made Easy launched their DNS services and web management portal in 2002 and has grown to manage hundreds of thousands of customer domains receiving more than 1 billion queries per day. DNS Made Easy has a proud history of 100% DNS uptime since launching their DNS service.
About Tiggee LLC
Tiggee LLC is a privately held company, formed in 1999 to provide innovative internet solutions for businesses. "Putting your business on the Internet is our business." Tiggee LLC's subsidiaries include DNS Made Easy (IP anycast enterprise managed DNS services), VPSit (enterprise virtualization environments – vpsit.com), Host Made Easy (dedicated server hosting and co-location services – hostmadeeasy.com), Top Level DNS (TLD name services – topleveldns.com), Reverse DNS Trace (reversednstrace.com), IPv6Verify (ipv6verify.com), ShowMyHost (http://www.showmyhost.com), Resolving Name Server (resolvingnameserver.com), DNS University (dnsuniversity.com), and Domains Made Easy (domainsmadeeasy.com).
###