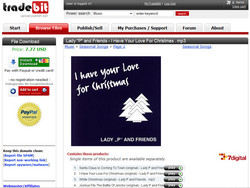 merchants use us as a tool and platform to sell and deliver
Wilmington, DE (PRWEB) November 30, 2009
Tradebit, Inc. has just announced a new joint venture with UK music distributor 7digital to provide DRM-free music downloads to their customers worldwide. The Delaware-based online retailer says what makes this development unusual is that their customers are not required to register with the site to purchase this new content.
Tradebit.com owners think this feature, among others, will help distinguish itself from the crowd of online music retailers.
Digital rights management, or DRM, is a method of restricting the use of digital media downloads such us videos or music. The intention is to protect the artists and distributors from duplication and piracy. Many users have long seen DRM as unnecessarily restricting. Online media retailers like Tradebit.com are finding a ready and enthusiastic market for content free of DRM restrictions.
Since 2004 Tradebit.com has served as a self-service marketplace for those looking to sell their own downloadable content online. Tradebit.com users can upload and sell their content using PayPal, Google Checkout and other direct debit methods for payment processing. The range of available media on Tradebit.com includes almost everything from auto service manuals to romance novels.
The music downloads now available at Tradebit include major artists and most downloads include brief samples that allow customers to listen before they buy. Tradebit's partnership with 7digital expands the available music to over 5 million music files.
Unlike most online retailers, Tradebit does not require customers to register personal and contact information with the site before purchasing content. This helps mitigate security concerns for customers and Tradebit hopes it will help their products appeal to a broader clientele.
"Most of the traffic on Tradebit.com comes from search engines and the merchants themselves who probably know their customers better than we do and use us as a tool and platform to sell and deliver," says founder and CEO Ralf Schwoebel.
Tradebit plays host to over 25,000 merchants selling over 10 million files. Prices range anywhere from a few pennies to hundreds of dollars, depending on the content and what the merchant wishes to charge. Traffic on Tradebit.com has exploded in recent months to over 150,000 unique visits each day.
# # #