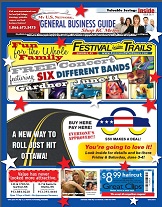 My US Network will revolutionize small business advertising by letting small businesses compete on the same terms as larger businesses
Kansas City, KS (PRWEB) November 16, 2009
My US Network introduces a strategic marketing program, designed to let businesses share advertising costs by partnering with other companies. For years, Auto Technologies has perfected a highly successful business model, responsible for giving auto dealers critical access to a variety of vital advertising streams. My US Network will dramatically cut costs for individual businesses while at the same time giving them access to a much wider range of advertising media than any business could hope to have if they advertised alone.
"My US Network will revolutionize small business advertising by letting small businesses compete on the same terms as larger businesses," Roberta Long, president of My US Network and Auto Technologies, said. "Direct mail and ecommerce services are not always affordable to the average small business. Postage alone for mailed postcards would cost thousands of dollars, even in the smallest targeted markets."
The secret is teamwork and My US Network's Co-Op marketing packages. Businesses work together to share advertising costs. Individual businesses can pay upwards of $5,000, or more for direct mail advertising targeted to 10,000 homes. My US Network gives business access to similar multimedia campaigns starting at an astonishing $199 with a circulation of up to 3.2 million multimedia advertisements. My US Network has the proven, successful model for facilitating similar business partnerships across the widest possible constellation of advertising types. Instead of depleting the advertising budget to access only one or two media, My US Network shows business owners the power of harmonizing their publicity efforts with multimedia advertising programs for maximum exposure.
Long said, "My U.S. Network allows businesses to join forces and resources, affording them the opportunity to participate in multi-media marketing programs. No longer will large businesses have the advantage of saturating their targeted markets through effective Direct Mail, Email, and eCommerce programs, unattainable to them in the past. Now instead of a business being solely responsible for the total cost of traditionally expensive mail campaign, and email campaigns, they are able to share the space thereby share the costs!" Businesses can acquire an entire month of advertising for one low price.
My US Network's exciting expansion is an organic extension of Auto Technologies Inc. already established automobile industry focus. Auto Technologies Inc. is a niche marketing company specializing in the unique needs of the auto industry nationwide. Created in 2001 and established under the premise of becoming a "One Stop Shop" for auto dealers, Auto Technologies Inc.'s success was pre destined. "An auto dealer can obtain any marketing product or service they may need (Direct Mail, Email Broadcasting, Custom Website Design, etc.), by making one point of contact," Ms. Long said "The dealers loved the concept. Many people were eager for us to expand to other industries, but many more were unable to afford our services.
"After careful consideration of how we could best help those small businesses, My US Network was born."
My US Network has aggressive expansion plans, driven by the wide appeal of their programs and a strong desire to help.
"Affordable Advertising is a necessity for all businesses," Long said. "My US Network's Multi-Media programs can be utilized anywhere in the world. This fact alone affords it the ability to offer unlimited jobs. My US Network is offering sales positions nationwide. No experience required and free training will be provided." Long's vision is to not only be a part of lowering the unemployment rate, now at 10%, but additionally provide career opportunities for those ambitious people with or without college degrees.
In addition, while Ms Long was attending several college visits with her daughter one fact remained consistent…Internships were limited at best, and paid internships were virtually non-existent. That gave her an idea. She was short sales staff, the schools need internships for their students, and the students need income. My US Network sprung into action to offer unlimited paid internships, for marketing and advertising sales and design. Internships would be a "win", "win" for everyone. The schools have internships. The students get their internships and jobs. My US Network increases their sales and marketing staff. The businesses get affordable advertising and the consumer saves money.
Of Auto Technologies aproximate 120 million double opt in email addresses, My U.S. Network's Shop KC Metro email campaigns alone have grown to encompass more than 1.6 Million consumers. Printed distribution has blossomed as well, with more than 100 pickup locations, within the Kansas City Metro. In addition to the directly mailed publications delivered to every USPS address available in Gardner, Springhill, New Century and Edgerton, My U.S. Network hosts a website where consumers may view business bios, photos, and print additional savings coupons.
Currently My US Network has the following Guides in circulation, or in production. "Shop KC Metro" General Business Guide, (available for publishing in both English and Spanish), an Automotive Guide, Real Estate Guide, Home Improvement Guide, Health & Beauty and Job & Career Guides. Expansion to both Iola and Ottawa, Kansas are already in full development in addition to Missouri, Lawrence and S. Olathe. President Roberta Long indicated "Turn-Key" My US Network Franchises will be available in 2010 nationwide.
Contact
Roberta Long
My US Network
Toll Free: 1-866-673-5476
Local: 1-913-884-8209
###