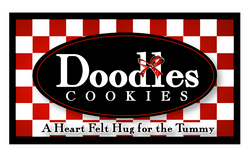 "If I couldn't have regular cookies, I'd eat these!" from http://www.examiner.com/examiner/x-693-Organic-Food-Examiner~y2009m10d14-Doodles-Cookies-organic-and-glutenfree-cookie-mixes-score-big-on-taste-Part-1
Aurora, IL (PRWEB) November 2, 2009
Doodles Cookies, offers people with celiac and other food allergies a healthy gourmet holiday treat. All of Doodles Cookie mixes are nut free and low in sodium. Doodles Cookies Nut Butter (in which soy nut butter substitute or any nut butter can be used) and Sugar Cookie mixes can also be adapted for vegans.
Deborah Sievers started Doodles Cookies after winning two awards from a contest featured in Chile Pepper Magazine 2004 and 2005 for her original Chocolate Chip Cookie. Chile Pepper Magazine has an article in their NOV/DEC 2009 issue featuring the Double Chocolate Chip Habanero Cookie Mix.
Doodles Cookies is currently featured on Chicago's local PBS Holiday Gift Auction website http://www.LakeShoreptv.com. PBS Holiday Gift Auction to air on Nov 7, 2009. Doodles Cookies is offering two of each current cookie mix along with a large assortment of gourmet kitchen goodies to get any baker off on the right foot for the holiday season.
Three of Doodles Cookies delicious and health conscious cookie mixes are currently available on the company's website, http://www.doodlescookies.com: Chocolate Chip, Nut Butter and Sugar Cookie. Doodles Cookies Double Chocolate Chip Habanero will be available Nov 13, 2009.
Contact:
Deborah Sievers
President Doodles Cookies
Deborah (at) doodlescookies (dot) com
630-701-0847
###