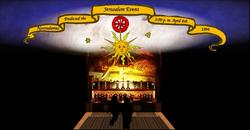 Human thought can literally transform the physical world.
Tacoma, WA (PRWEB) November 9, 2009
In response to the soon to be released movie 2012 and Dan Brown's recent book, the I.D.E.A Foundation founders announce the first part in the second coming of the Universal Christ. Jerusalem Easter Monday April 4th 1994 began the awakening of a critical mass number of 777,000 individuals that transmute prophecies of doom creating hope for 2012. The reason this was not immediately shouted from the rooftops was because the two witnesses of the event needed to understand why The Universal Christ chose to return in this way. The answer lay in The Mysteries recorded in Scripture and now presented in The Know Thyself Initiative found on the tripple7center web site some 15 years later. Another reason this momentous news was not made public is because it seems certain material needed to surface, such as Nostradamus, The Lost Manuscript by Ottavio Cesare Ramotti. The return of the Universal Christ is recorded in Plate 66 entitled: Prelude to the Light of the Great Sun of the New Millennium and Humanity's Rebirth.
The Know Thyself Initiative is formulated using The Mysteries and applying them in a practical manner for the 777,000 born to become a critical mass of consciousness. This body of 777,000 individuals is found within every nation, ethnicity, and religion becoming the light of peace and hope transmuting the darkness of ignorance and fear.
If this seems an impossible task, noetic sciences, a central theme in Dan Brown's The Lost Symbol, has proven that focused thought affects the structure of matter. "Human thought can literally transform the physical world." Noetics is an ancient discipline included in The Mysteries that can be applied globally to heal the planet. The process involves not only investigating the origin and purpose for existence, but also what happens to consciousness after death.
With the publication of Dan Brown's The Lost Symbol all the pieces are now in place and it is time for the next part of the Universal Christ's Divine plan to go into motion. Consequently, the I.D.E.A. Foundation for the Benefit of Humanity announces that it is now seeking the 777,000 individuals who were born stop the fulfillment of the doomsday prophecy scenario in the movie 2012 becoming a reality. In light of the alternative, can anyone take the chance to ignore that the future is in each individual's hands?
The I.D.E.A. Foundation for the Benefit of Humanity started from Hope which gave birth to a tangible organism May of 2003 in the state of Washington. It has struggled since its inception as has Humanity in that time. We have since come to the understanding Humanity's condition will not change until the individuals that comprise it change the way they think and move to altruistic compassion for all. This has resulted in the search for the critical mass number of 777,000 to transform the world with the aid of the Know Thyself Initiative found on the triple7center website. (http://www.triple7center.com/)
# # #