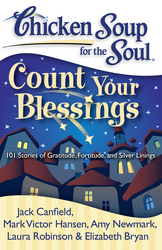 "Balderdash sold over 15 millions games worldwide," exclaims Robinson.
Los Angeles (PRWEB) November 3, 2009
It seems that "counting your blessings" is more than an everyday phrase – In fact, according to scientific research and TIME Magazine, practicing gratitude is the "#1 path to happiness." The problem is remembering to do this often enough to reap the rewards.
The solution may come from the creator of the wildly popular game, 'Balderdash', Laura Robinson and co-author/inventor Elizabeth Bryan in the 'Chicken Soup for the Soul: Count Your Blessings' book and board game. In stores November 3rd, the book retails for $14.95 and the eco friendly game for $24.99. The book offers 101 inspirational stories about navigating life's toughest challenges by finding blessings-in-disguise and opens with stories from the co-authors. Robinson recounts the ups and downs of inventing her million dollar game and Bryan shares the story of her personal "count your blessings" journey when she learned to find gratitude after a serious car accident nearly took her life at nineteen years of age. The book is filled with contributor's inspiring tales that share the silver linings found in life's greatest challenges from grave illness to great loss and foreclosure – there is a story in this book that will touch everyone's heart.
The game uses engaging copy and logic to help players navigate every day scenarios, going from "tired to inspired" or stressed to blessed" by heading to the "Thank Tank" or wearing the whimsical "Look on the Bright Side" glasses. To find a game retailer near you, or to play the online version of the game, visit http://www.countyourblessingsgame.com or - to purchase the book and game visit http://www.amazon.com.
Robinson says she is grateful to have been selling laughter for twenty years and to be working with "Chicken Soup for the Soul." "Balderdash sold over 15 millions games worldwide," she exclaims. Knowing how that game touched so many lives, working with "Chicken Soup for the Soul" is a wonderful, new opportunity to share this message about gratitude with families everywhere.
Robinson and Bryan are also committed to creating Twitter's "Largest Suite of Gratitweets"™ by getting people everywhere to "tweet" about things that make them feel grateful this Thanksgiving weekend. Reading this book and playing the game will help family and friends find "silver linings"… even this year. Look for your personal "attitude of gratitude" in stores by
November 3rd.
For more information, receive products or to arrange an interview please contact Crys Spelman at 310.291.8273.
# # #