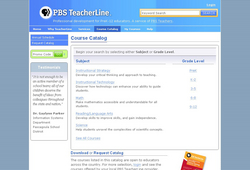 The Teaching Climate Change program explores arguably the most pervasive and influential issue of our time to ensure teachers and students gain the knowledge and skills needed to be successful in the 21st century and protect Earth for generations to come.
Arlington, VA (PRWEB) November 2, 2009
Climate change -- one of the greatest challenges facing humanity and a major concern to young people -- is the focus of upcoming online professional development courses and teaching resources from PBS TeacherLine® (pbs.org/teacherline) and The National Aeronautics and Space Administration (NASA). PBS TeacherLine, the premier provider of online professional development services for preK-12 educators, has been awarded funding from the NASA Global Climate Change Education grant, totaling nearly $600,000, to help educators engage students in critical lessons on climate change, while teaching science, technology, engineering, and math (STEM) concepts.
Since NASA scientist James Hansen's landmark Congressional testimony on global warming 20 years ago, intensive study of climate change has led the international scientific community to describe the warming of Earth's climate system as "unequivocal," citing increases in global average air and ocean temperatures, rising sea levels and widespread melting of snow and ice. Public awareness and concern about climate change also has grown, driving green technology initiatives in businesses and schools across the United States. Studies indicate that young people are especially worried. A 2007 survey of middle school students in the United States, the United Kingdom and Australia suggests that climate change is more frightening to them than car crashes, cancer, terrorism, and war, with many students reporting that they often lose sleep over it.
Students need clear, accurate information about climate change from knowledgeable teachers. K-12 schools have an important role to play in the environmental education effort. The National Science Teachers Association (NSTA) contends that environmental education on issues like climate change is critical because "student knowledge of environmental concepts establishes a foundation for their future understandings and actions as citizens." Schools are also responsible for helping cultivate the next generation of professionals in STEM-related fields, who may someday contribute solutions to environmental challenges.
"PBS TeacherLine's proposed program under this NASA Global Climate Change Education (GCCE) grant uses an innovative approach to provide teacher professional development and create highly useful, sustainable teaching modules that will greatly enhance the skills of science teachers and positively impact student learning," said NASA GCCE Project Manager Sharon Welch. The program is well aligned with NASA's goals and education mission as these high-quality courses and related modules will broaden middle and high school teachers' knowledge of climate change while also increasing their awareness and use of critical NASA data, tools and resources."
The grant funding for Teaching Climate Change: K-12 Online Professional Development from PBS and NASA focuses primarily on the development of two new online teacher professional development courses focused on climate change and aligned with content-area standards for middle and high school teachers. Both courses will strengthen teachers' knowledge of the science of climate change, enable teachers to use STEM instructional techniques to investigate climate change with their students, and facilitate the integration of data, models and other resources from NASA into classroom instruction. Through current missions such as Terra, Aura and SORCE, NASA is generating valuable data for the study of climate change, including measurements of atmospheric temperatures, sea ice thickness and extent, solar radiation, sea surface height, and aerosol concentrations. Additionally, NASA offers a number of relevant classroom resources and data collections like Visible Earth, My NASA Data and S'COOL.
The grant will also fund the creation of a series of 10 online self-paced learning modules containing resources from PBS and NASA. These modules will be offered free of charge through the PBS Teachers Web site (pbsteachers.org). The modules would be used by teachers to enhance their knowledge of climate science and to access classroom activities for teaching climate change.
"The partnership brings together PBS's award-winning science content and online professional development model with NASA's unsurpassed scientific resources to make a significant contribution to K-12 education," said Melinda George, senior director of PBS TeacherLine. "The Teaching Climate Change program explores arguably the most pervasive and influential issue of our time to ensure teachers and students gain the knowledge and skills needed to be successful in the 21st century and protect Earth for generations to come."
The online professional development courses and resources will be available by the summer of 2012. For more information about PBS TeacherLine, visit http://www.pbs.org/teacherline.
About PBS TeacherLine:
PBS TeacherLine is committed to helping teachers acquire the skills they need to prepare students for a successful future. PBS TeacherLine provides high-quality, affordable professional development for preK-12 educators through facilitated, online courses, collaborative learning communities, and exemplary Internet-based resources. Currently, more than 145 courses across multiple subject areas are offered. Teachers can earn continuing education units, professional development points, and graduate credits for course completion. The courses have been developed in conjunction with leading education organizations, including the Mid-Continent Research for Education and Learning (McREL), Concord Consortium, and International Society for Technology in Education. Created in 2000, PBS TeacherLine is funded by a grant from the U.S. Department of Education, which represents approximately 85 percent of the total program funding. The remaining 15 percent is funded through in-kind support from PBS and program income. For more information, visit http://www.pbs.org/teacherline.
About PBS:
PBS, with its 356 member stations, offers all American - from every walk of life - the opportunity to explore new ideas and new worlds through television and online content. Each month, PBS reaches more than 124 million people on-air and online, inviting them to experience the worlds of science, history, nature and public affairs; hear diverse viewpoints; and take front row seats to world-class drama and performances. PBS' broad array of programs has been consistently honored by the industry's most coveted award competitions. Teachers of children from pre-K through 12th grade turn to PBS for digital content and services that help bring classroom lessons to life. PBS' premier children's TV programming and Web site, pbskids.org, are parents' and teachers' most trusted partners in inspiring and nurturing curiosity and love of learning in children. More information about PBS is available at http://www.pbs.org, one of the leading dot-org Web sites on the Internet.
###