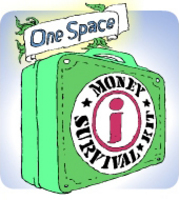 "As single parents are especially vulnerable in the current economic situation, these new resources provide an effective and immediate way for single parents to tackle money and debt problems by following a manageable step by step approach."
Bristol, UK (PRWeb UK) November 4, 2009
Working in partnership with SCOOP Aid (Sheffield Committee of One Parents), ['The Money Survival Kit'], comprises a range of easy-to-use, interactive online resources, with practical solutions to help single parents tackle immediate problems such as mortgage arrears, preventing bankruptcy, CSA issues, and managing fuel bills.
SPAN director, Sue Cohen says:
"1 in 4 families is now a single parent family and these families are some of the poorest people in the country. As single parents are especially vulnerable in the current economic situation, One Space, our social networking site at Single Parent Action Network (SPAN) and SCOOP Aid has devised an effective and immediate way for single parents to tackle money and debt problems by following a manageable step by step approach."
The new One Space Money Survival Kit includes 1-2-1 financial and debt advice via email with solution-based case studies that reflect real life experience. Single parents are supported and empowered to identify their own solutions and obtain help from the right sources.
Editors' notes:
As part of the DCSF's Parent Know-How programme designed to produce better outcomes for children and their families, One Space is delivered by Single Parent Action Network (SPAN).
About Single Parent Action Network (SPAN )
SPAN is a uniquely diverse organisation supporting single parents living in poverty and isolation in the UK to empower themselves. By delivering parenting programmes, training, and childcare to single parents SPAN helps them to move forward in their lives. SPAN develops partnerships with organisations and agencies to improve policies for one-parent families. SPAN creates a voice for single parents whilst celebrating our children, our diversity and our lives.
Case Study:
A real time case study follows a single parent through the Money Survival Kit steps, demonstrating that whilst taking control of finances is not easy, with the right help it is achievable.
Interviews: The director of SPAN and One Space, Sue Cohen, is available for interview.
Media Contact Details:
Angie McDonald, Tel: 0117 951 4231 Mobile: 07768 736003
###