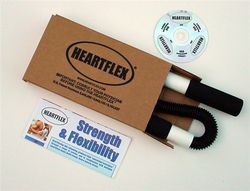 "HeartFlex is the best forearm exerciser you've ever used."
Austin, TX (PRWEB) November 3, 2009
This compact device packs a real wallop. Originally developed as a therapy product to speed rehabilitation and improve upper body fitness. Don't let its name, HeartfFlex, fool you. It was recently discovered to be the ideal golf aid for targeting and training golf specific muscles. HeartFlex rapidly strengthens grip, wrists, forearms, and shoulders improving club control. Improved club control improves ball control - lowering score.
Conveniently travels and fits in a golf bag, locker, or drawer. Quiet and effective, the HeartFlex may be used at the office, driving range, even while sitting and watching TV. Great for overall upper body strengthening and preplay warm ups using fun and easy repetitions.
Each HeartFlex comes with an instructional DVD illustrating general upper body exercises with special bonus segments illustrating how to use the product for golf, for walking exercise, plus breast cancer surgery preparation and rehabilitation.
Purchase on the internet at HeartFlex.com or our exclusive rehabilitation distributor, North Coast Medical .
John Corbin, president of HeartFlex, Inc., guarantees that along with its many benefits "HeartFlex is the best forearm exerciser you've ever used."
###