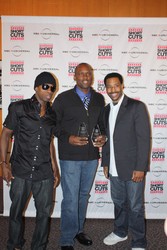 Los Angeles, CA (PRWEB) November 4, 2009
Writer/Director Dempsey Tillman was awarded NBC Universal Short Cuts Film Festival's Best Director Award and honored with Syfy Award garnering an international directing assignment with the Syfy Channel for his award-winning short film Collector.
Tillman has a flair for drama, science fiction, the supernatural, the fantastical. He's one of a growing number of young African-American emerging directors contributing diversity and talent to Hollywood's film community.
NBC Universal Short Cuts Film Festival held a V.I.P. showcase of six finalists (out 1,400 entries) for key industry players at the Directors Guild of America Theater in Los Angeles. The event was also a celebration of NBC Universal's wide range of diversity initiatives.
Finalists: Writer/Director Hector Montano Jaramillo (Tine Usted Una Pluma?); Writer/Director Sebastian Davis (Magellan); Director/Co-Writer Lin Oeding (Interpretation); Writers/Exec Producers Mary Theresa Archbold/Pat Shay and Director Michelle Vargas (Jazz Hand) which garnered Mary Theresa Archbold an NBC Talent Holding Deal for her performance and Writer/Director Camille Brown (Thank you for Washing) takes home Universal Media Studios pilot deal.
This year's festival was hosted by comedian Dwayne Perkins. The festival was founded by comedian Wil Sylvince and is a company-wide initiative to discover diverse voices both in front of and behind the camera. It's a unique showcase of short films produced with a diverse production team, cast or theme.
Short Cuts Judges included: Jeff Ingold (Executive Vice President, NBC Comedy Programming); Charlie Andrews (Director, Universal Media Solutions, Drama Programming); Quan Phung (Development Executive, Stuber Productions); Karan O'Hara (Director, Original Movies, Syfy Channel); Karen Horne (Director, NBC Entertainment Diversity Programs).
Collector (based on the feature film screenplay "The Almighty") was written/directed and edited by Dempsey Tillman and was shot on 35 mm in two days with two DP's and two cameras.
The film stars Brad Renfro (The Client, Apt Pupil, Ghost World) and co-stars Matthew Boylan (24, CSI, Without a Trace).
Collector, has screened in over 35 international film festivals around the world, garnering 18 awards including five "Best Short Film" Awards," two "Best Director" Awards, "Best Cinematography," "Best Sound Design," three "Awards of Excellence" and won three "Best Actor" awards for Brad Renfro in the last lead performance given before his untimely passing.
For the past decade Tillman has worked alongside Hollywood's most respected and successful directors of our time, including billion-dollar director Sam Raimi (Spider-Man franchise), Oscar-winner Robert Redford (Lions for Lambs), veteran Rob Reiner (Rumor Has It...) and groundbreakers Antoine Fuqua (Training Day), Justin Lin (Fast and
Furious) and Mike Judge (2009's Extract starring Mila Kunis and Ben Affleck). As one of the top Video Assist men in the industry, Tillman is also credited with additional photography for 2009's Land of the Lost plus uncredited re-shoot work on Rumor Has It and Dude, Where's My Car?
Tillman is a client of The Brakefield Company. The Brakefield Company | PRODUCE & PROMOTE is an independent film production and marketing boutique based in Los Angeles. It's PROMOTE Division markets high quality films and emerging filmmakers with significant promise.
COLLECTOR SYNOPSIS
Justin (BRAD RENFRO) hangs by a thread in a nightmarish world of desperation. Sharp-tongued visitor (MATTHEW BOYLAN) arrives at Justin's door and launches a relentless interrogation that forces him to the edge of sanity. With the clock ticking on second chances, Justin must face his darkest fears before it's too late.
###