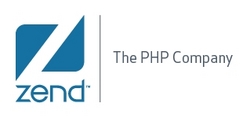 Oracle and Zend have a long-standing commitment to the PHP community, with a history of collaboration that has ensured integration between Oracle and Zend's PHP-based solutions
Cupertino, Calif. (Vocus) November 5, 2009
Zend Technologies, the PHP Company, today announced that it is working with Oracle to deliver an integrated and optimized enterprise-class Linux and PHP solution for deploying and managing business-critical Web applications. To extend access to Zend Server -- Zend's complete, enterprise-ready Web application server – it is now available through the Oracle Unbreakable Linux Network (ULN). Building on a history of integration between Zend solutions and the Oracle Database, Zend Server also includes out-of-the-box enterprise-grade connectivity to Oracle® Database.
"Oracle and Zend have a long-standing commitment to the PHP community, with a history of collaboration that has ensured integration between Oracle and Zend's PHP-based solutions," said Andi Gutmans, Zend CEO. "Together, we are now delivering an enterprise-grade PHP stack from top to bottom supporting the development, deployment, and management of business-critical PHP applications on Oracle. This full stack will also ease deployment in virtual environments using Oracle® VM."
Users of the Oracle Unbreakable Linux Network (ULN) now have easier, one-stop access to Zend Server via ULN, helping to speed installation for their PHP-based Web applications. The Unbreakable Linux Network is a comprehensive resource for Oracle Unbreakable Linux support subscribers, offering access to software patches, updates, and fixes. ULN is an easy to access website for subscribers available at http://linux.oracle.com.
Leveraging the knowledge and experience of Zend and Oracle, the integrated Oracle Enterprise Linux and Zend Server solution delivers a stable, high performance, easy-to-install production environment for business-critical PHP Web applications.
"Oracle has been a long time supporter of PHP and Zend," said Wim Coekaerts, vice president of Linux and Virtualization Engineering, Oracle. "Oracle Enterprise Linux customers will have more convenient access to Zend Server through the Oracle Unbreakable Linux Network, enabling them to leverage the ease-of-use and low-cost of PHP in their production environments."
Zend Server: A Production Environment for Business-Critical PHP Web Applications
Zend Server is a complete, enterprise-ready Web application server designed for running and managing business-critical PHP applications in production. With Zend Server, customers can experience dramatic improvements in performance, security, and reliability of their Web applications, backed by Zend's enterprise-class support and service.
A core component of Zend's integrated suite of professional PHP solutions, Zend Server includes the most up-to-date version of PHP, advanced monitoring and problem diagnostics to ensure application reliability, an enhanced code accelerator to maximize performance, and 24/7 access to Zend's technical support for online updates, hot fixes and security patches. Zend Server also integrates with Zend Studio, Zend's PHP IDE, and Zend Framework, the popular open source PHP framework, to make it faster and easier to develop and deploy rich, reliable, and secure Web applications. Zend Server, Zend Studio, and Zend Framework also integrate closely with Oracle Database 11g.
Zend Technologies recently announced a new public beta version of Zend Server -- Zend Server 5.0 – which includes significant new features, including code tracing, job queues, and support for PHP 5.3. Please see press release at: http://www.zend.com/en/company/news/Press/zend-server-slashes-problem-resolution-time-boosts-performance-of-php-web-apps.
Availability
Oracle customers can access Zend Server from Oracle Unbreakable Linux Network (ULN) through standard, native RPM package delivery ( http://linux.oracle.com ). A 30-day free trial license for the fully-featured Zend Server is available online instantly upon request at Zend's Web site: http://www.zend.com/products/server/license.
Full support for applications and production environments running on Oracle Enterprise Linux and Zend Server is available via Oracle (for Oracle Enterprise Linux) and Zend (for Zend Server).
About Zend Technologies
Zend Technologies, Inc., the PHP Company, is the leading provider of products and services for developing, deploying, and managing business-critical PHP applications. PHP runs 35 percent of the Web and has quickly become the most popular language for building dynamic Web applications. Deployed at more than 30,000 companies worldwide, the Zend family of products is a comprehensive solution for supporting the entire lifecycle of PHP applications. Zend is headquartered in Cupertino, California. For more information, please visit http://www.zend.com or call +1 408-253-8800.
Zend, Zend Technologies, Zend Framework, Zend.com, Zend Server, and associated logos and icons, are trademarks of Zend Technologies, Inc. and may be registered in certain jurisdictions. Oracle is a registered trademark of Oracle Corporation and/or its affiliates. All other trademarks are the property of their respective owners.
###