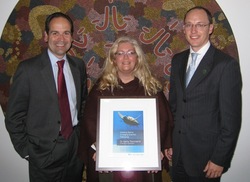 Marine rubbish is having a significant impact on marine life
Earthwatch Institute, Maynard, MA (Vocus) November 5, 2009
Preliminary studies led by Dr. Kathy Townsend from The University of Queensland indicate that more than 35% of the sea turtles she has studied in Australia died from eating trash.
"Marine rubbish is having a significant impact on marine life," Townsend said. "These impacts include ingestion of plastic debris and entanglement in crab pots, synthetic ropes and lines or drift nets, all of which can lead to death of turtles, sea birds and marine mammals."
This first-ever fellowship—presented recently by Earthwatch at its office in Australia—will provide Townsend with $205,000 in funding to continue her research over the next three years. The fellowship is supported by the US-based Goldring Family Foundation.
Townsend will use the award to continue to expand the study area, raise awareness of the problem, and investigate why turtles eat the trash in the first place—and she's garnering the help of Earthwatch volunteers to gather the data.
"Turtles in Trouble" is a new kind of research project for Earthwatch where up to eight volunteers become "scientists for a day," spending a full day with Townsend learning about marine debris ingestion by turtles found around North Stradbroke Island, off the coast of Queensland. More than 100 turtles (green turtles, hawksbills, and loggerheads) have washed ashore in this local area since 2005, Townsend said—but she's sure there were plenty of others that weren't reported.
In addition to performing turtle "necropsies" (autopsies for animals) and quantifying the amount of debris found on the local beaches, Townsend also takes volunteers out in a boat to release any turtles that have been rehabilitated.
The Goldring Emerging Marine Scientist Fellowship, presented by Earthwatch, supports promising early-career researchers and professionals who are committed to the creation of a sustainable environment through science, public education, and collaborative partnerships.
"Marine debris—including balloons, plastic ties and bags, milk bottle tops and more—is choking the life out of sea turtles all over the world, not just in Australia," said Ed Wilson, CEO and president of Earthwatch in Metro Boston. "Support from the Goldring Fellowship will enable Kathy and an arsenal of Earthwatch volunteers to collect the data needed much quicker than was possible before—greatly expanding the reach and impact of this critical research."
Facebook page: http://www.facebook.com/group.php?gid=51132618634&ref=ts
Media contact: Kristen Kusek, 978-450-1281. IMAGES AVAILABLE.
Earthwatch (http://www.earthwatch.org) is one of the world's leading environmental organizations. We use a unique model of citizen science, matching volunteers with researchers to investigate some of the greatest environmental challenges facing our planet. Earthwatch is dedicated to creating an environmental legacy through scientific research projects, education and learning opportunities and engaging people in field research. Our research program involves a global community of researchers, conservation volunteers, NGOs and businesses, working together towards a sustainable environment. Earthwatch invests $5.7 million annually to support 100 research projects across 38 countries. Since 1971 Earthwatch has inspired 90,000 volunteers to join vital conservation research projects in the field.
###