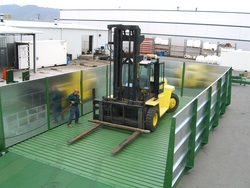 Salt Lake City, UT (Vocus) November 6, 2009
On October 6th, 2009 the United States District Court For The Western District Of Michigan, in a law suit titled Petter Investments, Inc v. Hydro Engineering Inc., et. at., Civil No 1:07-CV-1033 granted summary judgment in favor of Hydro Engineering Inc. (Hydro) and determined that Riveer Environmental (Petter) infringed Hydro's patents.
The Court's ruling left only two issues to be decided: (1) the amount of damages caused by Petter's infringement and (2) the entry of a permanent injunction to stop Petter's ongoing infringement. Just prior to the commencement of a jury trial that was set for October 27, 2009, the case settled. Petter agreed to pay Hydro a substantial sum of money to account for its past infringement and agreed to the terms of a Permanent Injunction to be entered by the Court preventing Petter from making, using, selling, offering to sell, or importing any impervious topped wash pad with a side trough.
In addition to determining that Riveer/Petter infringed Hydro's patents, the Court also sustained the validity of Hydro's patents by rejecting each and every one of Riveer/Petter's defenses in ruling on six (6) different summary judgment motions in favor of Hydro. See Lawsuit Docket Numbers 277, 278, 293, and 340
In 2007, Hydro discovered that Petter, was selling wash pad systems that infringed Hydro's patents. Hydro mailed notification to Petter of its infringement. Shortly after, Petter filed a lawsuit alleging that Hydro infringed Petter's patent. Petter filed the lawsuit in the United States District Court for the Western District of Michigan and is entitled Petter Investments, Inc. v. Hydro Engineering, Inc. et al., Civil Action No. 1:07-CV- 1033. Hydro denied the allegations and countersued Petter. In December 2008, the Court determined that all of Petter claims against Hydro were completely meritless, and dismissed all of Petter's claims on summary judgment. See, Lawsuit Docket Number 135.
The Hydro patents include both apparatus and method claims applicable to wash pad design and the use of the equipment. This broad patent protection affects the Petter customers that purchased infringing products. A complete comprehensive list of these sales was eventually produced by Petter in the lawsuit. Hydro and Petter have entered into an agreement that indemnifies all of the listed customers who purchased an infringing Petter system.
In an effort to promote future customer relationships, Hydro has determined that any infringing Petter customer not included on this list that contacts Hydro before December 31, 2009 will be extended indemnification by Hydro. If you have purchased a Petter wash rack with a side trough and are concerned that you are not on this list and wish to be indemnified by Hydro, please call 800/247-8424, extension 127.
Hydro provides the most innovative products in the industry. Hydro takes great care to ensure that its intellectual property is protected, and enforces its intellectual property rights to ensure that only Hydro's customers can enjoy the benefits of these innovative products. We are pleased that the Court has sustained the strength and validity of Hydro's patents in this case.
About Hydro Engineering
Hydro Engineering Inc. is now in its 29th year of operation. The business and its manufacturing facilities are located in Salt Lake City, Utah, serving a growing number of product representatives, national accounts, three (3) United States GSA contracts and thousands of end users. The company is committed to providing the best value and most innovative products available to its customers.
###