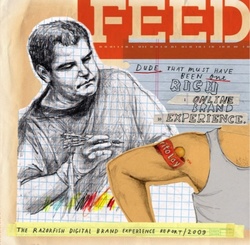 "In today's digital world, the experience is the message. And these experiences are driving the bottom line."
San Francisco, CA (PRWEB) November 9, 2009
Digital brand experiences do create new customers, according to the just-released FEED: The Razorfish Digital Brand Experience Report. Fully 64% of consumers surveyed made their first purchase from a brand because of a digital experience - either with a website, microsite, mobile coupon or email.
Razorfish surveyed 1,000 "connected consumers" about how Internet technologies and services affect the way they engage with brands and make purchasing decisions. This group, which is defined as having access to broadband and spending a specified amount of time and money online, used to be the digitally-savvy minority, but in the past year has become the new mainstream. Today, roughly 200 million U.S. consumers fall into this category.
"The 'connected consumer' is hungry for engaging online brand experiences," said Garrick Schmitt, Razorfish Group Vice President of Experience Planning and FEED editor. "Conventional wisdom says consumers don't want brands encroaching on their social space, but according to our findings, this simply isn't true. Consumers are actively engaging with brands online, whether that's 'friending' them on Facebook or writing a review on Yelp, and these experiences are shaping their perceptions - and loyalty - to those brands."
He added, "In today's digital world, the experience is the message. And these experiences are driving the bottom line."
FEED revealed how digital technology is altering consumer attitudes toward brands and how brand engagement is affecting sales. Key findings:

The digital language of love - deals, deals, deals. Consumers are largely engaging with brands to receive exclusive promotions or discounts. Of those who follow a brand on Twitter, 44% say that access to good deals is the main reason.
Digital can make or break a brand. 65% of consumers say a digital experience, either positive or negative, changed their opinion of a brand. And in that group, almost all (97%) indicated their experience influenced whether or not they eventually purchased that brand.
Actions speak louder than advertising. People who actively engage with a brand digitally--from participating in a contest to downloading a mobile application--are substantially more inclined to purchase and recommend that brand to others.
"Every interaction has the power to shift a consumer's affinity for a brand," sad Schmitt. "For brands to be successful in retaining and creating customers, they need to shift their focus away from awareness and impressions and focus on creating experiences that move consumers to engage, purchase and spread the word."
FEED can be viewed at: http://feed.razorfish.com. Razorfish publishes the report annually to help marketers better understand how consumers engage with brands in an increasingly digital world.
About Razorfish
Razorfish is one of the largest interactive marketing and technology companies in the world. With a demonstrated commitment to innovation, Razorfish counsels its clients on how to leverage digital channels such as the Web, mobile devices, in-store technologies and other emerging media to engage people, build brand loyalty and provide excellent customer service. The company is increasingly advising marketers on Social Influence Marketing, its approach for employing social media and social influencers to achieve the marketing and business needs of an organization. Its award-winning client teams provide solutions through their strategic counsel, digital advertising and content creation, media buying, analytics, technology and user experience. Razorfish has offices in markets across the United States, and in Australia, China, France, Germany, Japan, Spain and the United Kingdom. Clients include Carnival Cruise Lines, MillerCoors, Levi Strauss & Co., McDonald's and Starwood Hotels. Visit http://www.razorfish.com for more information. Follow Razorfish on Twitter at @razorfish.
###