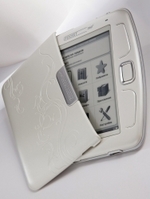 a wonderful ergonomic design
Portland, OR (PRWEB) November 8, 2009
Dulin's Books, an upstart independent ereader reseller from the Pacific NW, announces the availability 2 new ereaders, the PocketBook 301+ and the PocketBook 360, in the US.
The PocketBook 301 ($275) is shipping now and all orders for the PocketBook 360($240) will begin shipping in 2 weeks.
The PocketBook 360 is the newest ereader from Pocketbook and features a 5" E-Ink Vizplex display, the newest Samsung 400MHz processor, expandable memory up to 32gb, a wonderful ergonomic design and position sensor for using with either hand or in landscape. Also includes an integrated cover and comes in either Ivory or Black.
The PocketBook 301+ features a 6" E-Ink Vizplex display, Samsung 400MHz processor, expandable memory up to 32gb, is available in 4 colors and plays MP3's as well so you can listen to your favorite music while you read.
All PocketBook models feature wide format support, multiple languages including English Russian Japanese Chinese Spanish and Hebrew. Easily change font size, make notes about your reading and play games such as sudoku, chess, sea battle and solitaire. Also included: Picture viewer w/slideshow, clock, calendar and of course battery life measured in the thousands of page turns.
Dulinsbooks.com will offer a large variety of ereaders and media tablets of various sizes, functionality and price points for everyone from the casual reader to the student and business user.
Pre-orders for the Boox by Onyx International are to begin soon and in the coming weeks other exciting new products will be added.
###